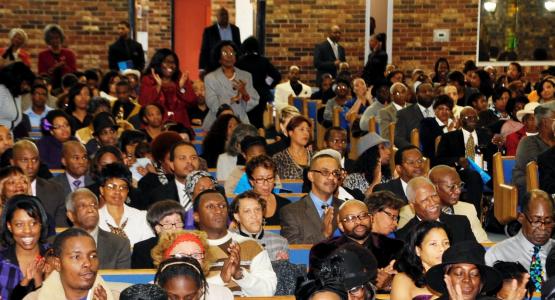 Allegheny West Church Celebrates Centennial
March 26, 2014 ∙ by Anonymous ∙ in Allegheny West Conference, Uncategorized
One hundred years ago, the Shiloh church began as a small group meeting in one family's home. The group recently celebrated tremendous growth. 
Story by Daryl Foster
Allegheny West Conference's Shiloh church in Cincinnati, Ohio, started as a dream in the heart and mind of Lela Brown. The small group's first meeting place was downtown on West Ninth Street in the home Brown shared with her husband, William. Catherine Copeland, 96, the congregation's longest living member, says she remembers the home.
From there, Shiloh began to grow and went from its first church home on Preston Street, to Lincoln Avenue, to the corner of Court and John streets, to Wesley Avenue, to Windham Avenue, to a building members purchased at 1018 William Howard Taft Road. With plans to build, they sold the structure on Taft Road and rented from the St. Mark Christian Methodist Episcopal Church until they broke ground at 3660 Washington Avenue, which opened in 1974 under the leadership of Pastor Willie Lewis. And, that's where they remain.
Henry and Mattie McCloud, long-time Shiloh members, get special recognition from church leaders for their many years of service.
Copeland and many other members and guests gathered recently for two weekend celebrations to commemorate the church's 100th anniversary, which they themed "Heaven: Beyond Our Wildest Dreams." The Shiloh Mass Choir, under the direction of Jeff Sloan, filled both weekends with heavenly music.
During the first Sabbath, Mark Mallory, the mayor of Cincinnati, attended to share a proclamation to the congregation, and church leaders offered special recognition to Carrie Walker and Henry and Mattie McCloud for their many years of dedicated service to Shiloh. William Cox, conference president, presented a dynamic sermon, and the day climaxed with a community concert featuring Traci Wright, a member of the Dale Wright Memorial church in Germantown, Ohio, and a vespers service led by Elder Steven Garner.
Carlton Byrd, speaker/director of the Breath of Life Ministries
On the second Sabbath, the guest speaker was Carlton Byrd, senior pastor of the Oakwood University church (Ala.) and director/speaker for Breath of Life Ministries. Byrd also conducted a workshop on "The Importance of Officers in Growing the Church."
Nellie Conner, a Shiloh member and co-chair of the celebration planning committee, said of the events, "Our 100th year celebration was fantastic, but I just think what the celebration will be like when we all get to heaven."