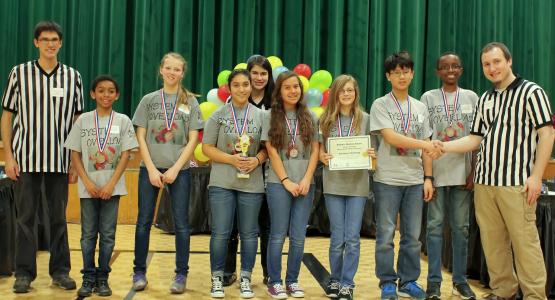 Potomac Schools' Real-World Solutions Help Win Robotics Competition
March 25, 2014 ∙ by Anonymous ∙ in Education, Potomac Conference, Uncategorized
Two Virginia teams build robots that can help keep their fellow citizens safer in the face of "Nature's Fury." 
Story by Potomac and Visitor Staff; Photos by Kelly Sanchez 
Because of their innovative solutions to dealing with "Nature's Fury," two Potomac Conference schools—the C.F. Richards Junior Academy in Staunton, Va., and the Shenandoah Valley Adventist Elementary (SVAE) in New Market, Va.—won first- and second-place respectively in the recent Southern Union Region's Adventist Robotics League (ARL) tournament. The goal of the March 16 competition, which drew 27 teams to Southern Adventist University in Tennessee, was to encourage Seventh-day Adventist students to work in teams to provide real-world solutions for people dealing with natural disasters.
As members of the FIRST Lego League ARL participants, whose competitions are held on Sundays instead of Saturdays, belong to a worldwide program that helps young people develop technology, science, problem-solving and research skills while they build and program autonomous robots to achieve discrete tasks.
C.F. Richards Junior Academy's Lego Lightening Squad robotics team.
The C.F. Richards' Lego Lightening Squad team of six won the champion's award for designing a robot that would project LED lane markers on the highway to allow for safer driving in inclement weather such as snow, rain and fog.
Teamwork and leadership was key to their win explained Grant Wolters, C.F. Richards principal. "Once we got back to school, it was neat watching them work with each other inside of their classes," he said. "Their attitude was different as they realized they were just scraping the surface of their potential abilities."
The SVAE System Overload team came in second for designing iFlood, a flood monitoring device that can be used to warn people of approaching flooding. When the team showed it to Richard Funkhauser, chief of the Shenandoah County flood rescue team, he saw how it could be used immediately. He said, "The iFlood can be used right now at low water bridges to set off a warning light to alert on-coming traffic that flooding is occurring." He wants the robotics team to show their invention to Shenandoah County administrators for possible purchase for use in the county.
Shenandoah Valley Adventist Elementary school's System Overload robotics team.
Gordon Miller, an SVAE teacher and one of the coaches, said, "It was great to see the excitement of the students as they realized that their invention had real world uses here in Shenandoah County."
The top three teams from each regional competition progress to the national competition in California in May. SVAE will not be attending, but C.F. Richards students are raising funds for the trip.
The Spring Valley Academy team from Centerville, Ohio, also participated in the tournament but did not place.