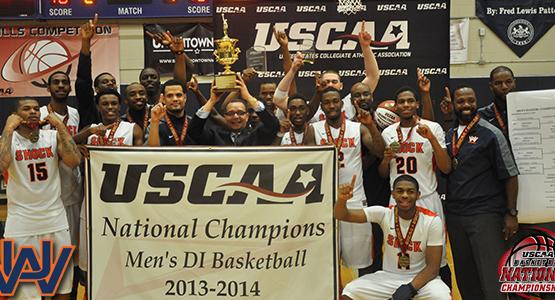 Washington Adventist University Men Win National Basketball Championship
March 10, 2014 ∙ by Anonymous ∙ in Education, Uncategorized, Washington Adventist University
Washington Adventist University men's basketball team are pictured with the university's president Weymouth Spence (holding the trophy).
With a score of 61 points in the United States Collegiate Athletics Association's final game, Washington Adventist University's Men's Basketball team took home the national championship title. 
Story by USCAA and WAU Staff
For the first time in school's history, the Washington Adventist University (WAU) Shock won the United States Collegiate Athletics Association (USCAA) Men's Basketball Division I National Championship. The game took place March 9 in Uniontown, Pa. In one of the lowest scoring Men's Division I finals in recent memory, the Takoma Park, Md., university scored 61 points to Tennessee Temple University's 38 points.
Senior Anthony Berry and freshman Tyrus Fleetwood both scored 15 points in the winning effort, and each landed a spot on the all-tournament team. Berry was named tournament MVP after averaging 13.0 points and 9.6 rebounds per game, and amassing a season high 15 boards in an upset of #1 seed Daemen College in the semifinals. WAU closes out the 2013-14 campaign with a final record of 22-8, a 10-game win streak, and as the 2014 USCAA Men's Division I National champions. Each milestone is a first in the program's history.
"This team not only did well on the court, but also off the court. They displayed the core values of Washington Adventist University all throughout the season," said Weymouth Spence, university president. "In my eyes they are not only basketball champions but they are WAU champions."