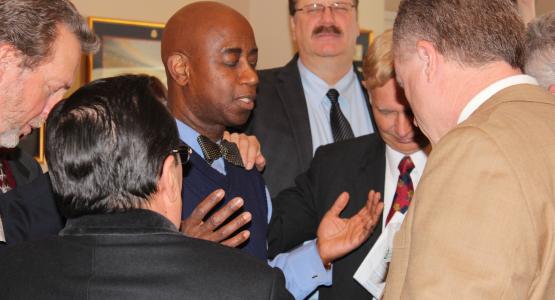 On Capitol Hill, Columbia Union Leaders Wrestle With Church, State Separation
March 05, 2014 ∙ by Anonymous ∙ in Uncategorized
Church leaders from around the Columbia Union spent the day in Washington, D.C., where they attended a symposium on religious liberty from a Seventh-day Adventist perspective.
Story by Taashi Rowe
Yesterday, with the United States Capitol building only a few blocks away, about a dozen leaders of Columbia Union's local conferences, university and healthcare systems wrestled with ideas on choice and separation of church and state.
Interestingly, while Columbia Union leaders were guests of the Baptist Joint Committee for Religious Liberty (BJCRL), the focus for the day was looking at religious freedom from a uniquely Seventh-day Adventist perspective.
"I can't think of any two groups that care more about religious liberty," said J. Brent Walker, BJCRL's executive director, when welcoming the group. "I've found it beneficial to work with Adventists on this issue as we promote religious freedom for all of God's children."
The three-lecture symposium was the brainchild of Walter Carson, the union's vice president and general counsel; and Gary Ross, Public Affairs and Religious Liberty consultant.
Carson noted that this day was the first of its kind for the Columbia Union. "As leaders of the church, religious liberty is an important component of our faith and this opportunity to get an in depth lesson on this matter is not always available. We believe this day has equipped us all to be better leaders," he said.
Dwight Nelson, senior pastor of the Pioneer Memorial church and an adjunct homiletics professor at the Seventh-day Adventist Theological Seminary in Michigan, began the day by discussing freedom of choice and found biblical parallels to the American democratic system.
Jon Paulien, dean of the School of Religion at Loma Linda University in California, titled his talk "America and the  End-Time in Prophecy: A Seventh-day Adventist Perspective."
Although much of the day's focus was on the potential dangers of an entangled church and state, Doug Morgan, professor of history at Washington Adventist University in Takoma Park, Md., spoke of AT Jones, one of the first Adventists to make a foray into influencing legislation. He pointed out that Jones' efforts as well as Ellen White's writings support conscience-based activism.
Gary Ross summed up the lectures for the day as "substantial, relevant and beautifully presented."
Attendees also briefly met with two Adventists who work on Capitol Hill: Dwayne Leslie, director of legislative affairs for the General Conference, and Michelle Chin, a legislative aid for John Cornyn, a Texas senator.
Meeting With The Senate Chaplain
The group also met with Barry Black, an Adventist minister who has served as the U.S. Senate chaplain since 2003. While there, Carson presented the chaplain with an obelisk and thanked him for his "outstanding service to his country and his church."
Black told the church leaders that if they have not taken the time to get to know their government officials, they were missing a great opportunity to get more involved in their government. "These are the last days. I challenge you to interact with our government authorities before it is the last time," he said. "Having been here with a front seat to history, I have seen the difference that interaction can make when teaching the Word of God."
In reflecting on the day, Ron Halvorsen, Jr., president of the Ohio Conference, said the entire day was a
reminder that throughout Scripture, God placed spiritual people in the political arena. "We have such a strong community stance on separation of church and state that we've stayed at arms length from [government]. The presenters did a good job of talking about how to be a spiritual voice for justice. And Dr. Black's challenge that we get to know our political leaders is a good reminder of that," he said. "The other reminder is that if people don't know us, it's easier for them to stereotype us and what we believe. When they know us, we are friends and they know we care. And who knows what difference it can make at key moments."