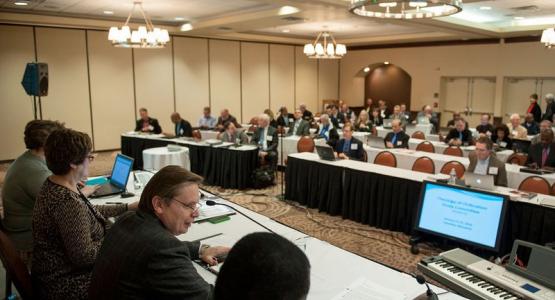 Update: Third General Conference Theology Committee Meeting Concludes With "Bridge-building"
January 30, 2014 ∙ by Anonymous ∙ in Uncategorized
Story by Adventist Review Staff; Photo by Ansel Oliver
In a January 29 edition of the Visitor News Bulletin, there was a story titled "GC Theology Committee Reveals 10 Divisions Would Recommend Women's Ordination." Below is the updated story:
More than 40 hours of presentations, discussions, worship, and question-and-answer sessions ended quietly Sabbath evening, January 25, as members of the General Conference's Theology of Ordination Study Committee (TOSC) embraced each other at the end of a sometimes-contentious five-day gathering.
The first four days of meetings featured highly contrasting views of key Bible passages by church scholars, as well as sharp exchanges between questioners and presenters about appropriate methods of Biblical interpretation. TOSC leaders several times cautioned members to be respectful of those they disagreed with, and to trust the spiritual commitments of all.
Each of the church's 13 world divisions also reported the study findings and recommendations of its own Biblical Research Committee (BRC) on the question of ordaining female pastors. While five division BRCs reported support for women's ordination, most of the others reported disapproval. Almost all division reports clearly stated their willingness to accept the decision that will ultimately be made by the worldwide church.