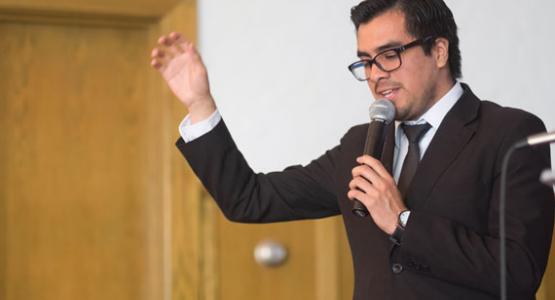 It's All About the Harvest
June 23, 2016 ∙ by vmbernard ∙ in Mountain View Conference, This Month's Issue
Story by Edwin Manuel Garcia / Photos by Toril Lavender
"I never thought the United States needed missionaries," says Anthony Araujo (pictured above), an aspiring pastor from Peruvian Union University. "That's where the General Conference is, that's where the best pastors in the world are; people from North America typically come to Peru to open mission fields."
He was even more excited when he was selected for the yearlong assignment in West Virginia, getting assigned to Lewisburg, a town of about 4,000. Araujo spends days immersing himself in the community: playing soccer; lending his ear to depressed immigrant workers; enjoying monthly potlucks with more than 50 people and leading small groups on Fridays. He also gives many Bible studies, sometimes late at night to accommodate poultry workers' schedules, and preaches for Sabbath afternoon services at the Lewisburg church, where up to 30 Hispanics regularly attend.
The missionaries live in church-provided housing and drive borrowed cars. They hold their own weekly cell phone worships and gather monthly to offer each other support and attend a seminar by church leaders.
Araujo has bittersweet feelings about going back to Peru. He is eager to finish his final year of theology, but he also knows the harvest season in West Virginia's field will be strong for the next group of missionaries. There have been some baptisms and several commitments for baptism. Evangelistic campaigns they began in April will continue through this month.
"The work is advancing, and it's about to take off," Araujo says.
Read more: From Peru to Appalachia: A New Kind of Missionary