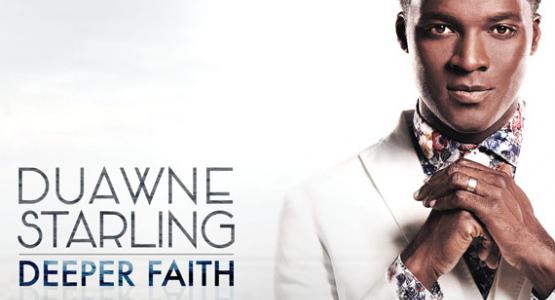 June 23, 2016 ∙ by vmbernard ∙ in Allegheny East Conference, Potluck, This Month's Issue
Intereview by Kim Luste Maran
Duawne Starling, a member of Allegheny East Conference's Miracle City church in Baltimore, recently released Deeper Faith. Read our interview with Starling to see what drives him to produce music that helps guide people toward a deeper relationship with God.
Visitor: Tell us how you got started in music.
Starling: I've always loved music but my career began in 1992 when I became a member of The Family, Kirk Franklin's group. I was a student at Oakwood University (Ala.), and Kirk came to Huntsville to play for a choir concert. While there, he also decided to direct a song he had written that Dynamic Praise (Oakwood's choir) was singing that same night. I was a member of Dynamic Praise, and Kirk heard me sing. After the concert he introduced himself and invited me to join his group. We recorded his debut CD, "Kirk Franklin & The Family" in Ft. Worth, Texas, later that year, and I was a featured soloist on the song, "Till We Meet Again."
In 1993 I transferred from Oakwood to Middle Tennessee State University just outside of Nashville. While living in Nashville, Debbie Winans, the youngest child in the Winans family, asked me to sing background vocals with her and her sister Angie. They were releasing their debut CD that year, and would be the opening act for Whitney Houston's "Bodyguard Tour." I did the tour and when it ended I remained in Nashville. I worked as a studio session singer, singing and arranging background vocals on countless gospel, country, and pop music recordings during the 10½ years I lived there. I worked with artists ranging from CeCe Winans and Sandi Patty to Jo Dee Messina and Dolly Parton; and Donnie McClurkin and Fred Hammond to Michael McDonald and Michael Jackson.
Why did you title your third and latest album "Deeper Faith"?
This album chronicles my faith walk with God in song form. I wrote these songs during a series of faith tests. "I Desire," for instance, was written in my prayer time. I didn't actually intend for it to be a song. I was crying out to God and the result was this transparent and intimate song.
The overall theme of the CD is that God is calling us all into a deeper relationship with Him. A relationship that goes beyond attending church once or twice a week, and beyond prayer before meals and at bedtime. God wants true intimacy with us— and I want true intimacy with God.
I hope listeners will develop a deeper relationship with God. Whether we realize it, all of us are on a faith walk—and our faith will never grow unless it's tested. But God never desires for us to fail. He allows us to be tested to sharpen us, to strengthen us, and to perfect us. Each test is designed for our good—and for His glory. If we trust Him while we are in the test, we will become all He intends for us to be, and our faith walk will become deeper as a result.
Did you write all of the songs?
I wrote 10 of the 13 tracks, and co-wrote one. Also on the CD is "You Alone," written by my friend William McDowell, and the hymn "I Need Thee Every Hour."
In what genre/style would you classify your music?
My music has always been a challenge for the industry to categorize. It's eclectic: it is a little contemporary and traditional gospel, a little contemporary Christian and, at times, it has a little pop flavor. "Deeper Faith," in particular, is a praise and worship CD.
Is music your full-time profession?
I have been a full-time singer/songwriter for 23 years, however, I also write literature. This year I will publish my 31-day devotional, Deeper Faith Life, as well as a children's book. My family is by far my greatest joy and accomplishment. Since starting a family, I balance homeschooling my three daughters with my music ministry. My wife and I will celebrate 15 years of marriage this year, and we also have an infant son.
Where can people get the album?
"Deeper Faith" is available for purchase online from iTunes, Amazon, etc.; and is also available in Christian bookstores. If someone doesn't see the CD at their local Christian bookstore, they should be able to order it at no additional cost. My Website is www.duawnestarling.com.