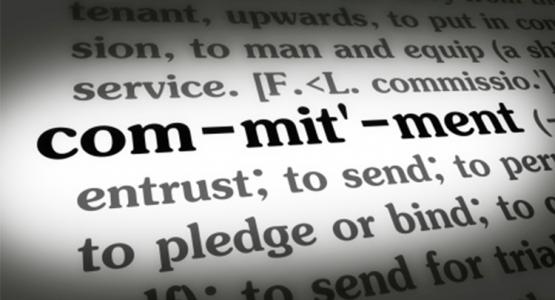 Quiz: How to Tell if you are a Church Commitment-Phobe
January 30, 2014 ∙ by Anonymous ∙ in Health & Lifestyle, This Month's Issue
Have you been called a serial church hopper? Been asked if you're a visitor at your home church? Don't have enough time to help out at potluck? Then you might have a commitment problem when it comes to your church. Take our quiz to help evaluate your commitment level.
Need a little help balancing your schedule?
(We've posted the questions below, too!)
1. How many churches have you attended in the past month?
a. 1
b. 2
c. 3+
While there isn't exactly a "wrong" answer here, constantly switching and visiting other churches may signal commitment-phobic tendencies.
2. How much time do you spend (outside of work) looking at screens each day?
a. 0-30 minutes  (1 point)
b. 30 minutes to 2 hours (2 points)
c. 2+ hours a day (3 points)
Trained mental health therapist Bonnie Heath says to limit your screen time to two hours a day. "Too much time in front of electronic screens decreases brain stimulation and can heighten distractibility, which can lead to depression and anxiety, leaving some less likely to get involved," she says.
Could you make a little extra time in your schedule to help out at church?
3. Have you ever been described as a "flake" for not keeping appointments with friends or family?
a. No. I always keep all my appointments.(1)
b. Yes. Regularly. (3)
c. No, but I will change plans if I need to. (2)
Your social commitments may not be directly linked to your ability to commit at church, but commitment-phobes normally have commitment issues in many areas.
4. How would you best describe your role at church?
a. Actively involved in one or more ministries (2)
b. I just attend church (3)
c. I'm involved in too many ministries! (1)
Eugene Anthony, who pastors the Berean church in Ashtabula, Ohio, and the Mount Zion church in Erie, Pa., has only 20 percent of his members regularly committing to church positions, and those that do commit usually end up leading more than one department. 
5. What skills or talents could you be using in your local church?  Is there a need you could fill?
a. I feel like I don't have any skills the church can use, or just don't have enough energy to help out. (3)
b. I feel like I'm already using my talents at church.  (2)
c. It's more like, what skills am I not using?! This church needs me! (1)
 If you chose a: Talk with a trusted church leader to help find an area, where you could help in.  Everybody has a talent needed in the church. 
If you chose b: Consider recruiting another member to help in your ministry.
If you chose c: You are needed at church, but are you making room for others to shine too?
6. How do you feel when you see the head of the nominating committee approach you?
a. You want to run in the opposite direction (3)
b. Excited to lead out in ANOTHER ministry! (1)
c. Ready to serve (2)
 Chesapeake Conference pastor Diego Boquer says you cannot expect people to commit their time and resources to a blurry and cloudy vision or goal. He encourages leaders to create well thought out plans and missions, and to not persuade member to help through shame or fear tactics.
7. On average how many times a week do you visit your church?
a. O (3)
b. 1-2 (2)
c. 3+ (1)
If you chose a: Maybe you should spend a little more time with your church family.
If you chose b: We're glad that your church plays a steady role in your life.
If you chose c: Make sure that you are maintaining balance across all areas of your life.
8. What do you do if you notice a need at your church that isn't being fulfilled.
a. Nothing. Someone else will meet the need. (3)
b. Start a new ministry to fill the void. (1)
c. Work with the church staff to start a new ministry. (2)
9.You're asked to bring veggie loaf to potluck next week. You respond:
a. I don't know if I'll be at church. Sorry, but no. (3)
b. Sure. I'll also bring a dessert, salad and bread. (1)
c. How about I bring a dessert instead? (2)
10. When do you normally arrive for church?
a. Right before the sermon (3)
b. I'm normally on time (2)
c. I arrive at least an hour before Sabbath School! So much to do! (1)
 Results:
Between 9-13: You might be too involved in your church. Consider mentoring another church member so they can help out too. You don't want to get burnt out!
Between 14-20: It seems like you're involved in a healthy way! Keep it up!
Between 21-27: You might be afraid of committing to your church. Consider donating your time and talents.  Many members experience an improved relationship with Christ after being involved.
Need a little help balancing your schedule?