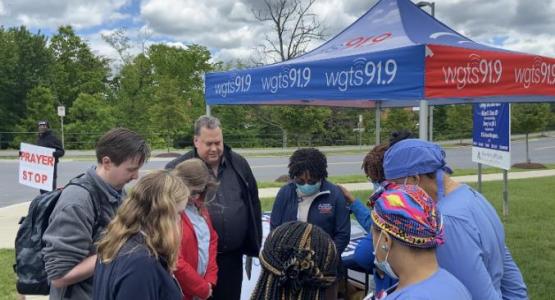 WGTS 91.9 Celebrates National Day of Prayer at Adventist Healthcare's White Oak Medical Center
May 16, 2023 ∙ by vmbernard ∙ in Adventist HealthCare, WGTS
Story by Jerry Woods
On Thursday, May 4th, WGTS 91.9 held a special day of broadcasting focused on prayer. But the WGTS team wanted to do more than an on-air event. So, WGTS CEO Kevin Krueger and his wife Lisa, Director of Promotions Ken Scribner, Listener Care Coordinator Tiffany Johnson, and Afternoon Show Hosts Johnny and Stacey Stone headed to Adventist HealthCare's White Oak Medical Center in Silver Spring, Md., to set up a prayer stop outside the hospital. They pitched a small tent with a sign that said, "Prayer Stop."  Throughout the day, dozens of people stopped by each hour to pray with the WGTS staff members and volunteers as they entered the hospital for appointments or treatments. In addition, nurses, doctors, and staffers from inside the hospital also came outside for prayer.
"We take a break in the middle of our day to grab a bite to eat, grab a cup of coffee, take a walk, or check our phone, so why not stop to pray?" said Scribner. We prayed for safety, unity, renewal, endurance, hope, and joy at this prayer stop, and people from around the D.C. area just kept coming for prayer.
"The medical environment is tough, and medical professionals face a lot of stress. We're just happy we could be there to encourage those who encourage so many," said WGTS CEO Kevin Krueger.