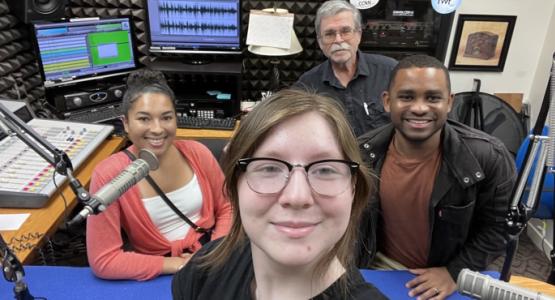 Teens Inspire Peers With Radio Show
May 10, 2023 ∙ by Web Administrator ∙ in Potomac Conference
Story by Debra Anderson
For more than two years, pastors and teachers in the Potomac Conference have been intentional in moving beyond the physical walls of their buildings to reach those in their communities. Now, young people are also getting on board.
Alyssa Audain, Nick Bates and Kelsey Bartholmae, teens from the Chesapeake (Va.) church, wanted to provide wanted to provide something for their peers to do on Saturday afternoons while having a spiritual impact on their lives. As a result, they created a radio show called Last Light, aired on WPMH 100.1. The name originates from the idea of Seventh-day Adventist youth being a light in the darkness.
Partnering with Adventists and non-Adventists, the teens have made Last Light a place where community friends can be open and honest. With the help of moderators Joseph and Jazmine Thomas and Alexander Roper, as well as producer Rick Brennan, the teens have conversed on such topics as "Faith in Hard Times," "Is Beauty Everything?" and "The Sabbath." With an average of 2,000 listeners, Last Light is the only teen show in the Hampton Roads area and has recently begun podcasting on Spotify and Apple Music.
The young people feel blessed by God to have the opportunity to reach their peers, and most importantly, engage youth in meaningful ministry on Saturdays.
Visit wpmhradio.com for more information.