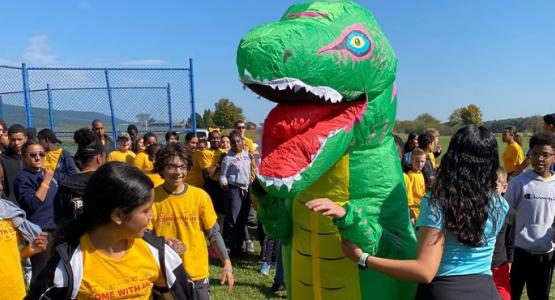 Students Enjoy Learning—and Teaching—Together
February 07, 2023 ∙ by Web Administrator ∙ in Pennsylvania Conference, Education
Story by Esther Hernandez
Sponsored by Blue Mountain Academy (BMA) and the Pennsylvania Conference Education Department, students from across Pennsylvania recently enjoyed fine-tuning their skills in basketball, volleyball and football at Sports Fest, a one-day event for grades five through eight, held on BMA's grounds.
"More than 150 students and chaperones from [the conference's] day schools and more than 40 students and staff from BMA and the conference office played and worked together as a team during our annual Sports Fest," shares Leona Bange, Education superintendent. "Students were invited to be a part of God's team and keep Him in their hearts in everything they do."
After the Sports Fest, BMA students traveled to help teach outdoor school in four locations.
Students from Pocono Adventist Christian School, Wyoming Valley Seventh-day Adventist Elementary School, and Whitehall Christian School experienced outdoor school at Carbon County Environmental Education Center in Summit Hill, Pa.
Students from Huntingdon Valley Christian Academy enjoyed hiking at the Briar Bush Nature Center in Abington, Pa., while Reading Junior Academy students spent the day at Nolde Forest in Reading, Pa.
Students from York Adventist Christian School, Harrisburg Adventist School, Blue Mountain Elementary School and Mountain View Christian School explored Kings Gap Environmental Center in Carlisle, Pa.
At each location, BMA students and a leadership team led worship and shared testimonies. "It felt good to share what it would be like to come and study at BMA with the younger students. I believe Adventist education is important and provides a better environment to grow spiritually and academically and learn our church doctrine," shares Lucas Mangum, a BMA junior.
"The importance of connecting our day academy [elementary students] to our older BMA teens is critical," says Burney Culpepper, BMA's principal. "Younger students look up to the older ones, making these events eternally impactful."
BMA students and staff are looking forward to several events this spring that will again give them opportunities to partner with the conference's other students and educators:
Music Fest, March 2–4, brings students in grades fifth through eight to campus to learn music and perform together for a Sabbath concert, conducted by Anwar Ottley, assistant professor of music and director of Choral Activities at Washington Adventist University in Takoma Park, Md.
BMA Experience, April 17–18, gives young people the opportunity to participate in classes, activities and even living in the dorm.
Outdoor School, May 8–10, at Laurel Lake Camp in Rossiter, Pa. 
Learn more about BMA's upcoming events at bma.us.