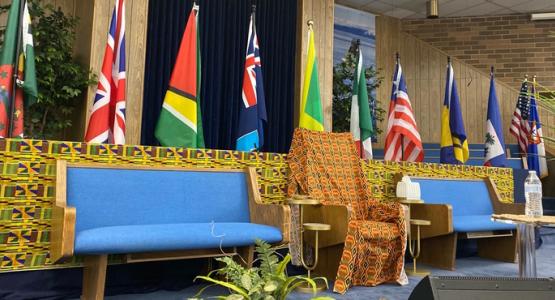 Southeast Celebrates Their Global Diversity
April 18, 2023 ∙ by Web Administrator ∙ in Allegheny West Conference
Story by Cecily Bryant, Southeast Church Communication Leader
The Southeast church in Cleveland recently celebrated the diversity of their congregation by installing flags of the nations represented by its members.
In a moving service led by the church's Panthers Pathfinder Club, the Pathfinders carried flags from nine nations into the sanctuary and placed them behind the pulpit, in addition to the United States and Pathfinder flags.
"I promised you … flags representing all the nations that make up Southeast," said Stan Hood, Southeast pastor. "We love you, and we value you as a part of our family, so your colors should be represented as well. This is what we do at the General Conference of Seventh-day Adventists, so we are no different here at Southeast."
The nine flags represented the countries of Jamaica, Haiti, Mexico, the United Kingdom, Barbados, the Dominican Republic, Guyana, Liberia and Montserrat.