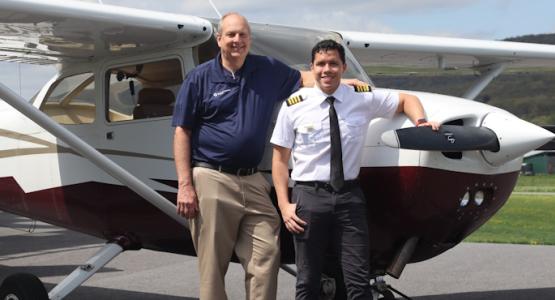 The Sky Is Not the Limit for One Senior
August 28, 2023 ∙ by Web Administrator ∙ in Education
Story by Esther Hernandez
"I've always aspired to become a pilot," says Abner Lozano.
As a sophomore, Lozano learned his dream could come true at Blue Mountain Academy (BMA) through the aviation program offered on campus by Training Mission Aviation. He enrolled in ground school his junior year and began flying soon after that.
"We learned how to check the oil on the engine of the aircraft, add fuel and conduct pre-flight checks before taking off," he shares. "We also trained to handle any emergency—engine failure, fire in the aircraft and radio failure. These are only a few of the lessons taught. During free periods or on Sundays, I could fly with my instructor."
Soon Lozano was ready for his first solo. He also made five long-distance flights this year as a senior. And at only 17 years old, he received his private pilot license.
"I never thought I could accomplish this dream at such a young age, but I give thanks to the opportunities provided at the academy," says Lozano. He is excited about continuing to work toward becoming a pilot in the airline industry. But flying isn't the only thing he accomplished at BMA.
"Not only did I grow academically at BMA, but spiritually. Even though I am a pastor's kid, I have experienced Jesus differently. While here, I've felt convicted to read the Bible and reflect more deeply. I've also become more independent; being away from home, I had to learn how to manage my time, care for my personal needs and choose my friends wisely."
Eric Engen, a flight instructor for Training Mission Aviation, says, "We not only teach the skills needed to fly airplanes, but we also bring in mission pilots and people currently working in the aviation world to our classes to speak about what it's like to be a pilot. Training to become a pilot has helped Lozano become a better student in his other subjects as well," says Engen. "Students study aeronautical decision-making, which helps when making decisions in real-life situations. It brings a maturity and focus that helps students handle other areas too."
Lozano encourages others to pursue their dreams at BMA, saying, "I hope you, too, can join the BMA experience and learn that not even the sky is the limit."
To learn more about BMA or to register, visit bma.us. The 2023–24 school year begins August 21, 2023.