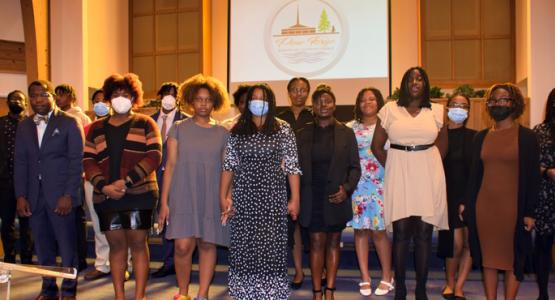 Seeds Sown in Students Reap Harvest
January 18, 2023 ∙ by Web Administrator ∙ in Editorials
Story by Tracey Jackson
Pine Forge Academy (PFA) holds two weeks of prayer during the first semester of the year: a "Back to School Revival" and a "Fall Week of Prayer." This past fall, the school community witnessed 19 students make a decision for Christ at the conclusion of Week of Prayer.
Using the theme, "Vibecheck: Cultivating Imitators of Christ," Max Gomez, the associate pastor of Allegheny West Conference's Hilltop Community Worship Center in Columbus, Ohio, enhanced PFA's ministry already fostered by Ja'Chin Holness, school chaplain, and Stephen Richardson, pastor of the Pine Forge (Pa.) church.
The academy is known for its vibrant worship and praise services, as well as the family-like bonds between students and staff. One of these students, Ryann Samuel, a senior, came to PFA from South Carolina after her mother found the academy through an internet search for a private school.
Samuel was raised in the African Methodist Episcopal Church. The family concluded that public school introduced her to too many negative influences and provided her with no safe space to explore a more spiritual path. So she attended the 2019 Pine Forge Academy Day and enrolled as a sophomore the following school year.
Samuel describes navigating her social and emotional development at PFA as "rocky," but found purpose and enjoyment in working with the spiritual life team. "I found that working behind the scenes made worship services more meaningful to me," she says. "I wanted to get baptized my sophomore year, but my mother told me to not do anything half-heartedly and to fully understand what I was committing to."
Samuel, who is studying to get baptized, admits she doesn't know everything about the Seventh-day Adventist message and lifestyle, but she says, "I understand Jesus' sacrifice, and I am sure that I want to commit my life to Him. I'm looking to learn more about Jesus and Adventism, so I've decided to delay my baptism until I know more."
Elijah Tyler, also a senior, grew up in the Adventist Church. In fact, his father, Keenan, pastors Allegheny East Conference's Coastal Shores and Cedars of Lebanon churches in Virginia. Following some of his friends' examples, Tyler was baptized when he was 8 years old.
Planning to be rebaptized at one of his father's churches, Tyler says, "I know my baptism was real, but I still always had a lot of questions about why there were so many rules with Adventism that I didn't want to follow. I've had many of my questions answered and now know that my decision for Christ is my own. No one forces me to go to church. I go because I want to go. PFA has helped me establish a real relationship with God. God no longer feels 'like a class.' … I'm glad that this time the decision to get baptized is 100 percent my own."