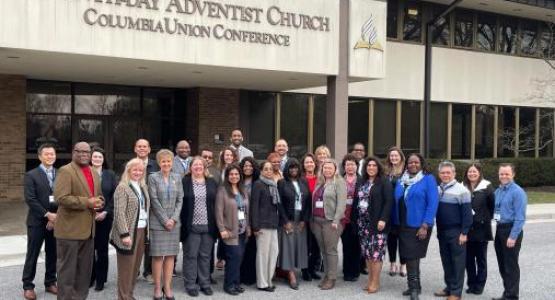 Secretariat Hosts First-Ever Columbia Unionwide HR Training Event
February 08, 2023 ∙ by vmbernard ∙ in Columbia Union News
Story by V. Michelle Bernard
This week, executive secretaries, team members and other Human Resources (HR) professionals from the eight conferences within the Columbia Union Conference gathered at the Columbia Union headquarters in Columbia, Md., for a two-day intensive training session.
Celeste Ryan Blyden, the union's executive secretary, planned the event, the first of its kind, "as an opportunity to meet colleagues from across the union, share stories and challenges, and consider best practices in key areas of Secretariat and Human Resources," she says. 
The group is responsible for assisting the union's employees through the various phases of employment, including onboarding, work life, employment law, the exit process, and retirement—a process that has gotten more challenging due to COVID-19 protocols, teleworking and the decline in applicants for the pastoral and educational workforce.
"It's getting harder to find pastors. It's getting harder to find teachers. It's getting harder to find even an administrative assistant," says Teresa Best, Allegheny East Conference's HR director who has 25 years of HR experience in and out of the church. "The event was helpful because it not only covered external immigration law and functions of HR but also internal Seventh-day Adventist Church policy and culture—and how to navigate through that. You can't just focus on one or the other; the two must be married."
Victor Zill, Mountain View Conference's secretary/treasurer who has handled HR at the conference since 2001, appreciated sharing best practices with other conferences and updates on ever-changing employee law. "Employees are the backbone of the church. You don't have the church without your employees," he says.
Joel Johnson, Allegheny West Conference's executive vice president, has overseen the conference's HR functions since 2020 and appreciates the support from the union in this vital area. He notes that each level of the church structure exists to support those under them, from the General Conference all the way down to the churches. 
"The churches exist to make members strong, and members go out and win people to Christ," he says. "And so, when we look to our parent organizations, we should look for training that helps us to do our job for those who are underneath … the union has a responsibility of making sure our conferences [and] conference workers are [provided with strong training], and this meeting met those requirements."