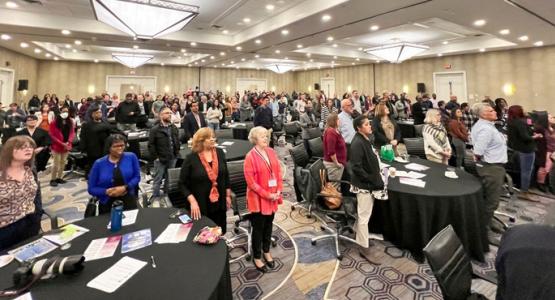 Pastors, Educators Meet at Development Conference
February 07, 2023 ∙ by Web Administrator ∙ in Potomac Conference, Education
Story by Debra Anderson
After a three-year hiatus due to the pandemic, pastors and educators from the Potomac Conference were able to recently gather in Chantilly, Va., for a professional development conference, themed "To Boldly Go."
Marvin Wray, former Ministerial director for the Potomac Conference and former interim pastor of the Beltsville church (Md.), opened the conference by addressing what all pastors and educators need: an authentic, deep, personal and transparent relationship with God.
Later, Charles A. Tapp, president of the Potomac Conference, shared wisdom from 41 years of ministry in classrooms and pulpits. He reminded listeners that "there are no lost causes with God, and when we pray, God will open our eyes to see church members and students from His point of view."
With wit and wisdom, Todd Whittaker, an author of more than 50 books and leading presenter in the field of education, demonstrated positive communication strategies to employ with students.
Karen Cress, who consults and coaches church leaders through her business, Culture Shift, LLC, spoke on conflict. She emphasized that conflict is inevitable, and lessons can be extracted from them when met with positivity and optimism.
A moving and powerful devotion on gratitude was skillfully delivered by Ann Steimer, the first- and second-grade teacher at the Tree of Life Christian Prep School in Fredericksburg, Va.
John Nixon II, the conference's assistant Ministerial director for the northern part of the territory, addressed the issue of burnout appealing to pastors to practice introspection, self-care and emotional well-being when engaging in the full-time work of ministry.
Therezinha Barbalho, pastor of the Silver Spring (Md.) church, shared her story of juggling ministry while mothering a special needs child. Hers was a testimony of trust that God journeys with us when we plow through the overwhelming demands of life.
Darlene Anderson and Stephanie Powell, instructors at Shenandoah Valley Academy in New Market, Va., told the audience about Sources of Strength, a peer leaders' program at the school, in which student leaders interact with their peer group in suicide prevention, bullying and substance abuse by connecting them with trusted adults or other self-help strategies.
The conference was not all work; attendees played pickleball, watched Monday Night Football on a big screen, and enjoyed downtime with friends.
Damein Johnson, pastor of the Seabrook (Md.) church, left the two-day conference feeling inspired and informed. "The presenters delivered practical, relevant content that gave me plenty to consider," he says. "I appreciated the seminars even more because I didn't feel overstuffed with information. It was wonderful to enjoy great fun and fellowship with colleagues."
Loretta Cak, principal of Tidewater Junior Academy (Va.), reflects, "Catching up with old friends and meeting new ones was a blessing. We all came away refreshed, reenergized and ready to touch the lives of our students and families in new and exciting ways."