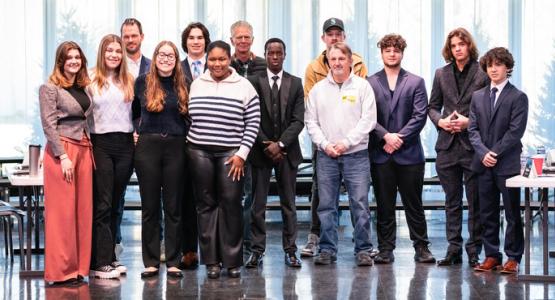 Entrepreneurship Class Members Enter 'Shark Tank'
March 07, 2023 ∙ by Web Administrator ∙ in Ohio Conference, Education
Story by Kathy Burns
The high school entrepreneurship class at Spring Valley Academy explores and covers a world of topics, including intro to business, marketing, selling and creating a business plan, along with activities to reinforce concepts such as creating products from creation to distribution.
The class recently used real-life activities to help gain an understanding of the business world. For example, students made a bar of soap from scratch, designed a brand and packaging, and created a marketing plan including a commercial. To assist in these projects, local businesspeople and entrepreneurs served as judges, "investors" and speakers. This gave students the opportunity to meet and discuss various topics with people who are in the field.
Another activity, "Elevator Pitch," involved students giving business pitches and business plans to an "investor" during a brief time in an elevator (pictured).
The class culminated with the capstone project: the "Shark Tank" type contest. Each student presented their own business plan to a group of local business leaders requesting an "investment" in their company.
Staff members share that the "sharks" did an amazing job asking tough questions while supporting the students. The sharks included John and Diana Clary, Tri-State Media business owners; Aaron Koles, Sales director, UKG, Inc.; Caleb Burns, a real estate investor; and Mark Merrell, a business owner.
With Ohio Conference's contribution and a local donor, several students received cash prizes. Winners included: Vivian Reeves, 1st place, $1,000 scholarship from the North American Division, plus $500; Mason Burns, 2nd place, $250; and Cameron Da Cunha and Samuel Mwiseneza, 3rd place, each winning $100.
"Entrepreneurship is a great class, especially if you are looking into starting your own venture," shares Reeves. "For me, it was a great opportunity to network, meet new people, and get my idea out there and find people to support me as well. I believe that all students should do their best to take this class. Even if you do not want to be a businessperson, there is always something you can learn to apply to other career fields and help you maneuver in the real world. The flexibility of the class allows you to work on something you are enthusiastic about, and it is not just another requirement for high school."
Alexis Dulan exclaims, "Entrepreneurship class taught me the importance of a good community and having grit and resilience!"