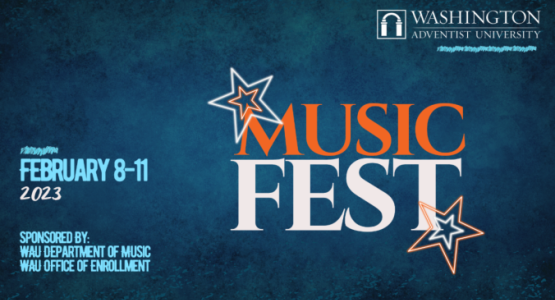 Columbia Union Students Receive $812,000 in WAU Music Scholarships
February 15, 2023 ∙ by vmbernard ∙ in Washington Adventist University, Education
Story by V. Michelle Bernard
Last week, Washington Adventist University (WAU) welcomed 200 students to its MusicFest in Takoma Park, Md. Columbia Union Conference academies that participated included Atholton, Blue Mountain, Highland View, Lake Nelson, Shenandoah Valley, Spencerville and Takoma. Students from Collegedale (Tenn.) and Mount Pisgah (N.C.) academies also traveled north to attend.
Students participated in ensemble rehearsals, lessons and master classes with WAU music faculty and attended a National Symphony Orchestra performance at the John F. Kennedy Center for the Performing Arts in Washington, D.C.
WAU's ProMusica, Washington Concert Winds and various students and faculty members performed at a Friday evening vespers program, and festival participants provided a final concert Sabbath afternoon at the Sligo church in Takoma Park, Md.
At this event, WAU awarded $812,000 in scholarships to participants. 
The following Columbia Union Conference students received scholarships:
Moses Gonzalez, $8,000, Atholton
Sunon Jones, $32,000, Athoton
Moises Velasquez, $24,000, Atholton
Sophia Xu, $8,000, Atholton

Canaan Hercules, $32,000, Blue Mountain
Jiyu Seo, $8,000, Blue Mountain
Valeria Trevino, $24,000, Blue Mountain

Jaeden Navarro, $16,000, Lake Nelson

Jaewon Pyo, $16,000, Highland View

Gabriela Apola, $40,000, Spencerville
Jon-Carlo Celestial, $24,000, Spencerville
Rachel Charles, $8,000, Spencerville
Alexei Elliott, $32,000, Spencerville
Timmy Levterov, $24,000, Spencerville
Malachi McRoy, $16,000, Spencerville
Jonathan Moats, $32,000, Spencerville
Megan Nashed, $24,000, Spencerville
Grady Noble, $32,000, Spencerville
Allie Ramirez, $24,000, Spencerville
Jonathan Rova, $24,000, Spencerville

Jana Apola, $8,000, Shenandoah
Nolynn (Nolin) Dahbig, $16,000, Shenandoah​
Zaida Galva, $24,000, Shenandoah
Janelle Bryant, $32,000, Takoma
Lysle Follette, $40,000, Takoma
Lawrence Martin, $8,000, Takoma
Addie McIver, $36,000, Takoma
Samantha McKenzie, $16,000, Takoma