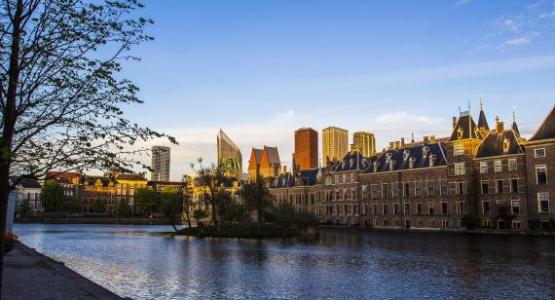 Columbia Union Academy Students Participate in Model United Nations Conference
January 23, 2023 ∙ by vmbernard ∙ in Washington Adventist University, Education
Story by WAU Staff
A group of 17 students and teachers from Columbia Union Academies departed for The Hague, Netherlands on Saturday night, January 21, to participate in The Hague International Model United Nations (THIMUN) conference. 
The Washington Adventist University Honors College in Takoma Park, Md., arranged for the participation in the THIMUN conference as part of their Center for Global Programs, an academic center designed to provide global experiences for students. THIMUN is the oldest Model United Nations conference in the world, and this year will mark the first time that a group of students from Seventh-day Adventist schools has participated in the conference. 
Students from Highland View Academy in Hagerstown, Md., Pine Forge Academy (Pa), Spencerville Adventist Academy (Md.), and Takoma Academy in Takoma Park, Md., will spend eight days in The Netherlands. During their stay they will attend the THIMUN conference, visit some of the sites in Amsterdam, explore The Hague, and attend church services at a Seventh-day Adventist church in The Hague.
The student delegation from the Columbia Union will represent the country of Equatorial Guinea during the conference and will participate in United Nations committees including the Human Rights Council, the Economic and Social Council, a Special Council on Disarmament and International Security, the Sustainable Development Commission, and a number of General Assembly committees. The delegates will spend four full days debating global issues and searching for international solutions to some of the world's biggest challenges.
To prepare for the conference, delegate attended a briefing at the Embassy of Equatorial Guinea in Washington, DC on Friday, January 20. Members of the Equatorial Guinea diplomatic staff will talk to the delegates about the international goals and objectives of the country and will provide insights on how to best represent Equatorial Guinea at the THIMUN conference.
Jonathan Scriven, associate director of the WAU Honors College, is leading the delegation as they travel to Europe. "This is first-hand international relations and diplomacy," he says. "Our team of students will be engaging with hundreds of other students from around the world in one of the largest convention centers in Europe, and we will have one common goal: finding solutions to real-world problems. 
Follow Their Journey
Check-in on how things are going for the student delegation by following @wauhonorscollege on Instagram.
The WAU Honors College actively participates in Model United Nations (MUN) through its WAU MUN program, which allows university students to participate in national and global conferences each year. The Honors College also hosts a conference for high school students each Spring called CAPITALMUN. This year's CAPITALMUN conference will be held on the WAU campus on March 21, 2023. Please contact Scriven at jscriven@wau.edu for more information.