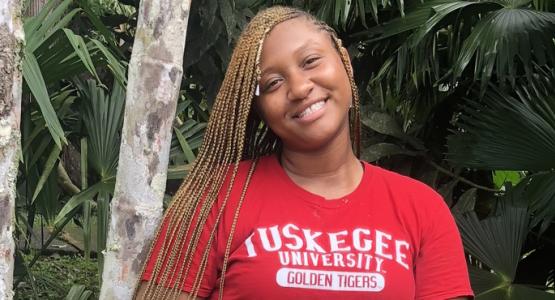 Adventist Education, Faith, and God's Plan
February 28, 2023 ∙ by Web Administrator ∙ in Education
Story by Shaun Robinson
Many alumni say that one of the best things about Takoma Academy (TA) is the fruit that it bears in the form of successful individuals making an impact on their communities and the world. Professionals of all disciplines have begun their journey to medical and law school, the technology industry, education and many other career paths after completing their high school years at TA.
Anna Cobb ('16) is just one example. Cobb entered Tuskegee Institute (Ala.)—one of the Historically Black Colleges and Universities—as her first step toward a career in science.
Reflecting on her days in college, Cobb states, "The most important thing I learned in college is that every relationship is a steppingstone. God places people in your life for specific reasons and seasons. Every relationship I made in college, whether it was a professor or a friend, was designed to create the path that I am currently on.
"The best advice I would give a student at Takoma Academy would be to not be so hard on yourself at this early stage in your life. Explore everything— every option for college, every major and degree choice and every job. Just explore! You never actually know what you want to do until it just appears. Your footprint on earth has already been planned out for you; it is just for you to walk in the steps!"
Cobb shares a moment at TA that impacted her current career path: "While in the 11th grade at Takoma Academy, I was given the opportunity to take AP environmental science. For someone who knew nothing about the environment, bugs or plants, I was fearful of struggling in this class. My teacher was the first person I ever met that showed so much love for the environment and bugs! The way he was able to convey environmental practices made everything seem so simple. Because I had a great teacher, I fell in love with the topic. After taking this course and excelling, I knew I wanted to pursue a bachelor's in Environmental Science."
And that's exactly what she did. In 2020, Cobb graduated from Tuskegee with a Bachelor of Science in Environmental Science: Plant and Soil.
Since then, Cobb founded Vegan Queen Cuisine, a plant-based alternative company. The juices that her company sells, Rejuvenation, are 100 percent plant-based and can be found in grocery stores in the Washington metropolitan area and on Amazon.
"Never in my life would I have ever thought I'd be saying I was CEO of anything, but God had other plans," she says. "The impact of great professors, amazing staff and my Adventist family has allowed me to reach success at a young age. I owe it all to God, my family and my wonderful teachers!"