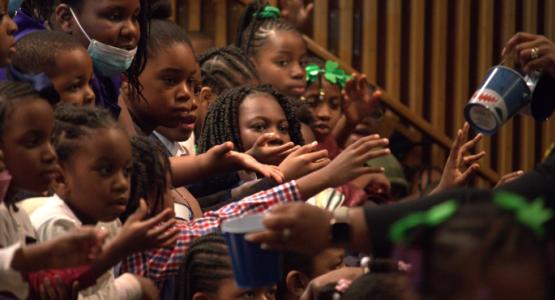 500 Young People Attend Haitian Youth Federation
March 28, 2023 ∙ by Web Administrator ∙ in Allegheny East Conference
Story by LaTasha Hewitt
After a hiatus due to the pandemic, the Haitian Youth Federation of Allegheny East Conference (HYFAEC) recently gathered for its first opening ceremony service in three years. The service is designed for youth to worship and fellowship together. "It's important for us to set the tone for the year, … setting the vision for the federation," says Ruth Ilera Antoine, president of HYFAEC.
More than 500 young people, representing all 20 Haitian churches within the conference, attended the service, held at the Arts Academy at Benjamin Rush High School (Pa.).
The service began with a play that centered around God's protection, then a praise and worship time, a children's story (pictured) and a message from Patrick Graham, AEC's youth director. "I was honored to be a part of such a well-planned service designed to jumpstart children and youth," says Graham.
The event also included a panel discussion in the afternoon where young people had the opportunity to voice their concerns with ministry leaders. "We like to hear their thoughts, have them express their needs and go back, plan and pull together to meet those needs," Antoine explains. "They are gearing up for their next joint event, a youth retreat in the spring."