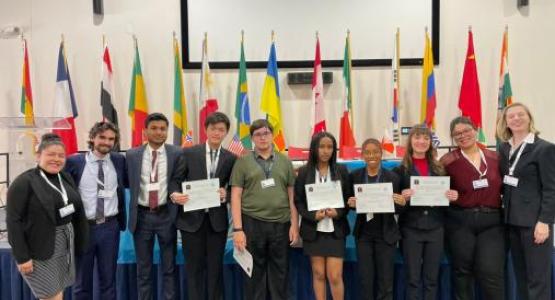 122 Columbia Union Students Participate in WAU's CAPITALMUN Conference
March 30, 2023 ∙ by vmbernard ∙ in Washington Adventist University, Education
Story by V. Michelle Bernard
The safe use of nuclear power, sustainable food production, human rights of asylum seekers and protecting minors from the dangers of social media were among the topics tackled at Washington Adventist University's (WAU) recent CAPITALMUN Conference in Takoma Park, Md. Model United Nations (MUN) programs provide an experiential learning simulation of the United Nations General Assembly and the UN Security Council. Students step into the roles of diplomats representing various countries as they discuss and debate significant global issues. 
More than 120 students from Atholton Adventist, Highland View, Pine Forge, Spencerville Adventist and Takoma academies represented 39 countries in the exercise, based on the United Nations General Assembly and/or the United Nations Security Council. Twenty-one WAU students also participated, serving in key leadership positions, such as secretary and deputy secretary general.
Beyond an awareness of global issues, Jonathan Scriven, director of CAPITALMUN and associate director of the Honors College at WAU, says the event builds listening, analyzation and processing, and debate and public speaking skills.
Scriven says the quality of the student debate at the conference was remarkable, especially since many of the students were able to build on their participation in last year's CAPITALMUN event, as well as The Hague International Model United Nations (THIMUN) Conference in February.
Another highlight was the keynote speech from Cassia Carvalho, executive director of the Brazil-U.S. Business Council at the U.S. Chamber of Commerce and a WAU alumni, another benefit of the campus being so close to Washington, D.C., notes Scriven.
Students received the following awards during the event: 
Best Delegate
Economic and Social Council (ECOSOC):
Brandon Herd, China (HVA)
Camilla Ryan, Canada (HVA)
Human Rights Council (HRC):
Bethany Krause, Germany (SAA)
Cata Stiehm, Russian Federation (SAA)
Special Conference on Technology (SPC): 
Leighvanni Kennedy, Russian Federation (SAA)
Junyong Chung, Switzerland (Atholton)
Special Recognition Award:
Brenden Koilpillai, Egypt (HVA)
Phoebe Warfield, United Arab Emirates (TA)
Azrielle Privette, Zimbabwe (Pine Forge)
Best Overall Delegations:
Russian Federation (SAA)
Switzerland (Atholton)