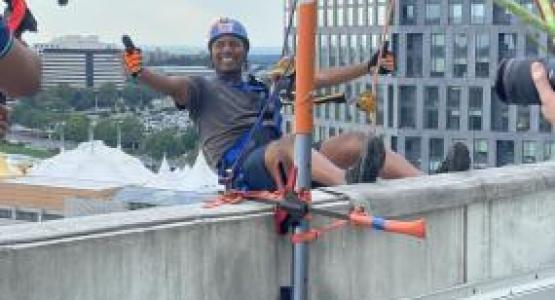 WGTS Hosts Rappel Down Building in Support of Haitian Children
September 07, 2022 ∙ by vmbernard ∙ in WGTS
Story by Tom Ozio
WGTS 91.9 hosts Jerry, Blanca, and Becky rappelled down 14 stories in Tysons Corner for the "Over the Edge" fundraiser on August 26. WGTS raised awareness for the foundation Helping Haitian Angels. They are a nonprofit organization designed to provide shelter, food, clean water, and medical care for orphaned Haitian children. Over $225,000 was raised during this event. The "Over the Edge" fundraiser continues through September 30.
"Rappelling down 14 stories can create a little bit of stress. For kids in Haiti growing up in poverty, the stress continues. This is an easy way to give those children the same opportunity that my children have and that is why this is so important to me," said promotions director and morning show host Jerry Woods.
"Seeing the pictures of Haitian children really touched me and one photo stood out, a smart-looking boy named Bendi. Bendi showed me that these children are not forgotten and doing something so fun and so scary can make all the difference," said morning show host Blanca Vega.
WGTS also hosted an ice cream stop for this event as part of the WGTS "91 Days of Summer." WGTS staff engaged and encouraged listeners while handing out station giveaways, free ice cream, and prizes.