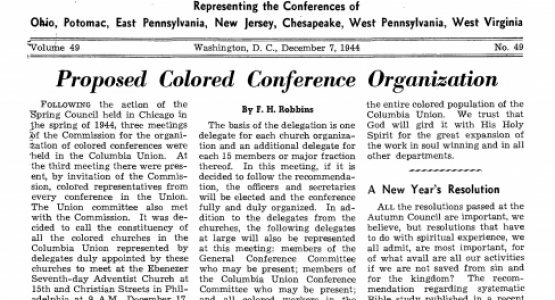 Visitor Shares Historic Articles Relating to Black History Part 1
February 09, 2022 ∙ by vmbernard ∙ in Columbia Union News
Throughout February, the Visitor staff will share historic articles and ads relating to black history in the Columbia Union. This week we found articles about the early years of Message Magazine and the creation of regional conferences.
The September 1924 Visitor mentioned a special offering for Oakwood Junior College (now Oakwood University).
A December 1937 Visitor celebrated Message Magazine, which was only three-years old at the time. The article noted that in 1936, that $8,909.45 worth of Message magazines were sold in the Columbia Union territory. Three sisters, Lucille Boyd, Jemima Paul and Clarice Padgett, sold 3,00 copies in one month, and 10,000 copies in 10 months.
The December 7, 1944 Visitor reported on the action of the 1944 Spring Council that resulted in three meetings of a commision to organize "colored conferences".
A constituency of all the colored churches in the Colubia Union would meet at the Ebenezer church in Philadelphia on December 17 to consider the recommendtation to organize a conference to include all the colored churches in the union. (Read about actions that followed this here.)