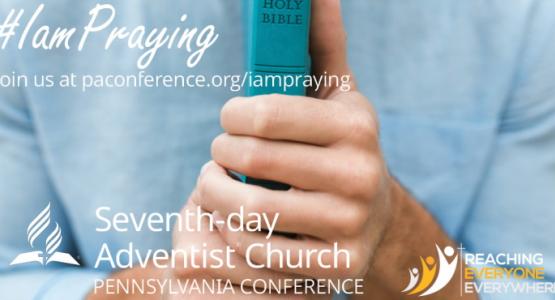 Powerful Prayers Impact Pennsylvania
February 23, 2022 ∙ by Web Administrator ∙ in Pennsylvania Conference
Story by Shawn Shives
"When God's people pray earnestly, sincerely, individually, and collectively, God will answer. Great things will happen in and among God's people. And the world will feel the impact as the Holy Spirit comes to equip and empower His people. ... We have come to serious times. Events in our world call upon every follower of Christ to be totally in earnest in our relationship with God. ... We must learn the power of prayer" (Ellen G. White, Prayer, p. 3).
Across Pennsylvania, people are praying. More than 800 people have committed to daily praying for the mission and ministries of the Pennsylvania Conference, asking God to pour out His Holy Spirit like never before. As a conference team, we committed to not one, but two 30 Days of Prayer in 2021.
In May, our office leaders, along with members of the executive committee and our association committee, prayed together each evening while churches invited their members to gather in person, through Zoom and on prayer phone calls to pray for our strategic initiatives, camp meeting, summer camp and more. We did this again in September, but this time our pastors and churches led each night on our Zoom prayer meetings as we focused our prayers on the almost 90 evangelistic meetings that took place in the fall.
God has moved powerfully to answer these prayers. Camp meeting provided a powerful week of spiritual revival and growth. Summer camp reached maximum capacity and numerous young people committed their lives to Christ through baptism. This fall, more than 1,000 guests attended opening night of our evangelistic meetings. Our Hispanic churches baptized 65 people on one Sabbath alone!
I invite you to be a part of this powerful work of prayer. Visit paconference.org/iampraying to become a part of this important movement. You'll receive prayer requests along with praise and reports on answered prayers. Follow us on Facebook (Pennsylvania Conference) or Instagram (@paconference) to see glimpses of how God is moving and your prayers are being answered.