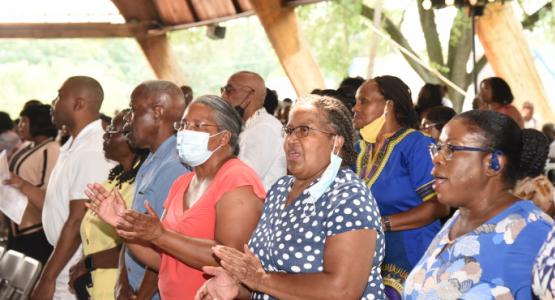 In-Person Camp Meeting Returns After Two Years
September 07, 2022 ∙ by Web Administrator ∙ in Allegheny East Conference
Story by LaTasha Hewitt
Allegheny East Conference (AEC) ended its camp meeting session this year with a one-day, in-person Sabbath on the campgrounds of Pine Forge, Pa., marking the first face-to-face camp meeting since the pandemic began. The week began virtually for six days, culminating with the special in-person Sabbath, where more than 2,000 attendees gathered for various worship services and fellowship.
The day began under the Luther R. Palmer Pavilion that included a message from Marcellus Robinson, AEC's vice president for administration. Afterward, Mark McCleary, retired AEC pastor, led a Sabbath School lesson discussion. A Master Guide Investiture Service followed, which included 20 pastors and members.
The worship service included a special tribute to two former presidents who passed away within the last year: Henry J. Fordham, III, and Meade Van Putten. Pete Palmer, current president, delivered the featured message. After the service, AEC provided a free boxed lunch to the attendees.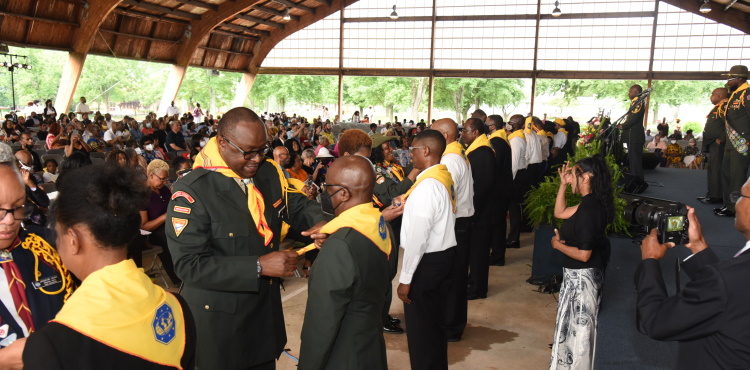 An ordination service was held in the afternoon, recognizing the ministry of five pastors: Felix Amparo, pastor of the Bethany church in Bridgeton, N.J.; Shawn Fordham, pastor of the East Lansdowne (Pa.) church and the Macedonia church in Chester, Pa; Corey Johnson, pastor of the Mount Sinai church in Trenton, N.J.; Tinashe Mkorombindo, pastor of the Fourth Street Friendship church in Washington, D.C.; and Ishmael Spencer Wade, pastor of the Campostella Heights church in Norfolk, Va. William Taliaferro, a retired pastor, gave the ordination address, followed by a concert featuring various artists.
Volunteers provided programs for children in the Pine Forge (Pa.) church, and the youth and young adults had services in the Pine Forge Academy gymnasium.
Members expressed their joy in returning after a two-year pause. "I really enjoyed the whole day. It was good to be back," says Letha Walker, a member of the Mt. Olivet church in Camden, N.J.
"I enjoyed the wonderful service! It was great to be in person again," shares Retha Dixon, a member of the Dupont Park church in Washington, D.C.
For the archived virtual and live camp meeting programs, visit YouTube.com/AECMediaMinistries.