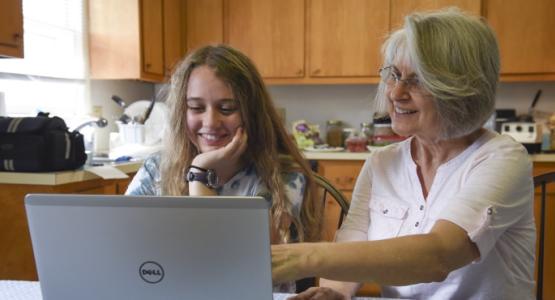 Partnering for Eternity With Katie
October 25, 2022 ∙ by Web Administrator ∙ in Education
Story by Renee Ford ('74)
It began two years ago, when I was asked if a Shenandoah Valley Academy (SVA) student in the Partnering for Eternity (PFE) work program could visit me once a week. I hesitated because of my small apartment and multiple food allergies. Through this program, my friends have students who assist them with yardwork, cleaning and cooking. PFE Director Laura Short said she had just the student for me, so I decided to give it a try.
When Katie Pacylowski ('24) arrived to my home for the first visit, it felt so right. We talked for hours about our interests and talents and about her classes, family and dreams for the future. She loves art, color and design and wants to be a graphic designer.
For some time, I have dreamed of putting the book of Revelation into a layout that young and old can understand. Could a board game format be a learning tool to help understand Revelation? If so, Katie's computer and design skills could be a real asset.
Each week we played games to harvest ideas. Developing a board game would take time, so we decided to make Phase I cards to provide an outline of the seven churches, seals and trumpets. I collected texts and made categories. Katie interpreted the texts through pictures and design. The color for each numbered church has a meaning: green for Ephesus—the beginning; red, persecution in Smyrna; gray, the indecision of Laodicea, etc.
A favorite moment was creating the card of "Jesus' Presence" in the church of Thyatira. The text says, "These things says the Son of God, who has eyes like a flame of fire, and His feet like fine brass" (Rev. 2:18, NKJV). Katie's response was, "Oh, that's up close and personal!"
When we completed the Phase I prototype, we played it with friends and family. They encouraged us to finish the project with the needed original art and move on to complete the board game. The cards are only the beginning. There is much work ahead!
The energy and creativity of young people astounds and invigorates me. PFE with Katie has been a great experience spiritually and mentally. We found time to do a little cleaning, hedge trimming at SVA, weeding at the church and cooking food we both enjoyed. One week we visited a 97-year-old Baptist friend. She was memorizing the order of the seven churches and found our cards to be helpful.
Katie is a gift from heaven that God brought to me at the right time, in the right way. Thank you SVA, Mrs. Short, PFE foundation and donors for making this wonderful program to connect students and senior citizens possible.