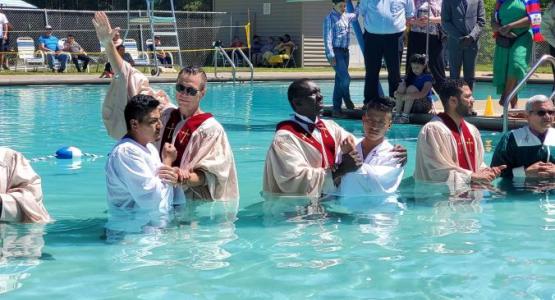 Ohio Conference Celebrates 155 Baptisms
June 06, 2022 ∙ by vmbernard ∙ in Ohio Conference
Story by V. Michelle Bernard
This past weekend, the Ohio Conference Hispanic Ministries Department welcomed 155 new members to the Seventh-day Adventist Church. "No one I have spoken to has a memory of us ever baptizing this many people in a single day," says Bob Cundiff, conference president. "As such we feel it is an unprecedented event in our territory."
The baptisms are a result of many dedicated members who witnessed and shared their faith with family and friends. Ohio Conference has adopted the "2023 Initiative" to see 2,023 Ohio baptisms by the year 2023. With a year left in the initiative, they have already celebrated 1,261 baptisms.
"There is a new culture developing here in our the Ohio Conference which is a culture of evangelism. Many are re-remembering that the purpose of the church is to make disciples. We don't exist to comb each other's wool or just to create social settings of people with whom we are most comfortable," says Cundiff. "Healthy sheep produce sheep and healthy Christians set about the task of brining others to the feet of Jesus. A growing church is a living church in which there is energy, joy, enthusiasm and a zest for the Gospel.  This is what many across our territory are experiencing." 
More than 1,000 people attended the conference's camp meeting at Camp Mohaven in Danville, Ohio, where the baptisms occurred. The event also featured the ordination of Pastor William Baca and a celebration of ministry over the past year.
"Campmeetings are no longer a place to come and meet "the old time folks" to remember the past, but a place to make and meet new converts and look to the future," says Peter Simpson, director of Hispanic Ministries for the Ohio Conference.