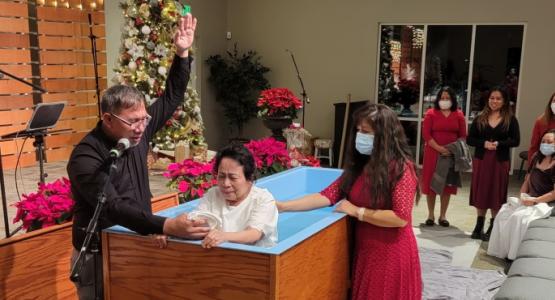 Most Important Way to Draw People to Jesus
April 04, 2022 ∙ by Web Administrator ∙ in Potomac Conference
Story by Debra Anderson
Anita Garcia Mercado lived in the Philippines and was raised a Roman Catholic. She served God in many ways there, ministering to others in their homes, in hospitals and in prisons. When her husband deserted the family, she was left to raise their three children as a single parent. Devastated by his absence, she consulted spiritists, mediums and "quack doctors," trying to win her husband back with spells and rituals.
Her introduction to Adventism came when her daughter Marie married Junnie Ree Pagunsan. When Marie's secret baptism was discovered, friction arose between mother and daughter. Years later, Marie and her husband invited Mercado to live with them in the United States.
For 15 years, she attended church on Sabbath with her family, listening as her son-in-law, now a pastor, shared the gospel. Still, Mercado continued to participate in Mass every Sunday. But moved by home worship discussions and Sabbath worship, Mercado was convicted and chose to be baptized on Christmas Day 2021.
"After all the years in ministry, preaching and sharing the gospel, it was so incredibly humbling to finally baptize my mother-in-law," says Pagunsan. "It was the best Christmas gift and a testimony that being consistent in living the gospel is one of the most important ways to draw people to Jesus."