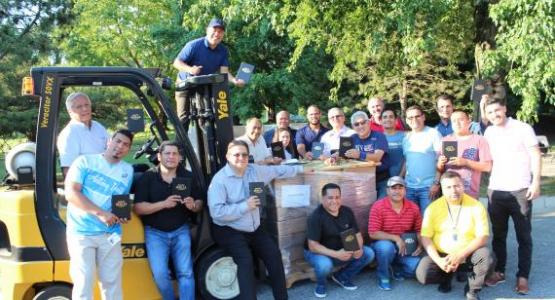 More Than 115,000 Bibles and Steps to Christ to be Distributed in the Columbia Union
June 30, 2022 ∙ by vmbernard ∙ in Columbia Union News
Story by V. Michelle Bernard
Some 15,600 Bibles and more than 100,000 Steps to Christ arrived at Columbia Union Conference headquarters in Columbia, Md., on Thursday—ready to be distributed to churches and members across the union.
It is the second large-scale distribution in the last two years where union leaders sent the books to representatives from the territories' eight conferences.
Obed Rosette, pastor of Potomac Conference's Takoma Park (Md.) Spanish and Ebenezer Spanish church in Hyattsville, Md., helped gather the books for the Potomac churches, and says that, "We are really grateful to receive Bibles at the price that we are getting them.  When somebody wants to know about Jesus, the first thing that they need is a Bible."
The Bibles were given to churches at a greatly reduced price and the Steps to Christ were funded--all thanks to a donor.
"This is a great blessing for the churches," says Rubén Ramos, vice president of Multilingual Ministries in the Columbia Union, who noted that many members are active doing outreach—opening their homes, using their cars and personal resources in ministry. "It is fair that we as an organization equip them with tools … to help them to give Bible studies to prepare people for Jesus' coming and get baptized," he said.
Ramos adds that he prays that the Lord will use every single Steps to Christ, Bible and Bible study, to bring their family, friends or acquaintances to fall in love with Jesus and give themselves to the Lord. 
*The union also distributed Bible study booklets.