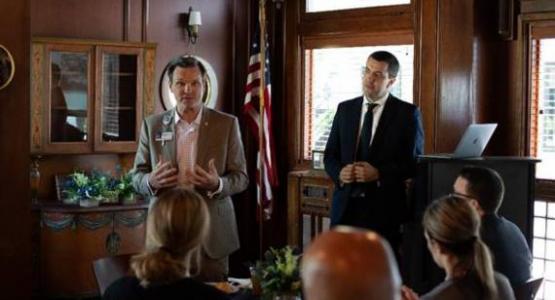 Kettering College to Welcome Students from Ukraine
June 21, 2022 ∙ by vmbernard ∙ in Kettering College, Education
Story by Courtney Dove
This coming fall, Kettering College will welcome up to 50 students, mostly from Ukraine. The General Conference of Seventh-day Adventists created an "Education Emergency Plan" in March 2022 as the Russian invasion began in Ukraine and asked Adventist colleges and universities in North America how they could help support students whose education was being disrupted.
Kettering College President Nate Brandstater thought bringing students to the college to continue their education would be an action that could help tremendously. He reached out to leaders at the school and Kettering Health because, as he explains, "We do things here as a family. I wanted to make sure bringing Ukrainian students here was something we could wrap our arms around together."
The Euro-Asia Division (ESD) of Seventh-day Adventists is the organization that works to implement education to those in need, spanning 12 countries, including 79 schools with 40 more in the planning process. Ivan Riapolov is the education director there. Along with his wife and two daughters, he recently came to Kettering to begin the partnership between Kettering College and the ESD. He gave an overview of the impact the organization has on students whose education has been disrupted or unavailable in several countries for various reasons.
Riapolov explained to the group that he and his wife are originally from Ukraine and moved to Russia years ago to teach English at Zaoksky Adventist University. He showed photos from Ukraine, noting, "Most of these buildings are ruined now. What is going on in Ukraine is a war with all the war crimes that can be imagined. It's a horrible situation."
He reminded the group that males are not allowed to leave the country unless they are students at foreign universities. The number of refugees so far has exceeded 14 million.
Riapolov thanked Kettering College for accepting 50 students from the ESD program and stated: "Whenever we talk about what can be done for Ukrainian students and refugees, Kettering College has done what no one else has, and others look up to you."
Kettering College President Nate Brandstater thanked Ivan Riapolov for presenting to the group. He said, "This is one step on an amazing journey where we feel like we are going to be the ones who are blessed from our relationship as we deepen it. We are looking forward to what God will do through this friendship."
The Ukrainian students will be studying mostly nursing this fall. The ESD has worked with the incoming students to ensure their English skills are sufficient to succeed in an all-English college and that they are serious about their studies and intentions.
President Brandstater believes, "There are going to be challenges, no question about it, but the challenges we'll encounter with this initiative will be an incredible blessing to this group of students and to our community."
Several of the Ukrainian students have reached out to Kettering College to express their excitement and gratitude about the chance to continue their studies. A Ukrainian student named Liubomyr states, "It's an opportunity to look at the world from a different angle, new people, new thoughts, new opportunities, it's something new to me. It's a chance for a new life, maybe even just a life, since our country is at war and no one can guarantee that you will wake up tomorrow."