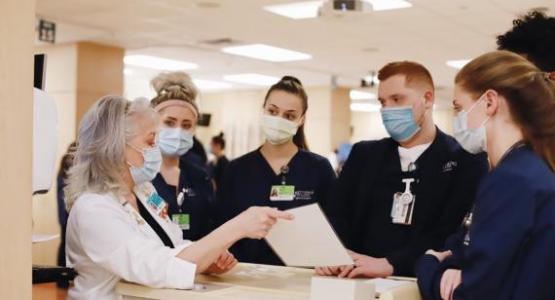 Kettering College joins Ohio Department of Education, Choose Ohio First Scholarship Program
April 04, 2022 ∙ by vmbernard ∙ in Kettering College, Education
Story by Courtney Dove
Kettering College is excited to announce its new partnership with the Ohio Department of Education. Beginning Fall 2022, more students will have the financial ability to obtain a nursing degree from Kettering College.
The Ohio Department of Higher Education announced on April 4, 2022 that they are awarding Kettering College funds for the use of the Choose Ohio First scholarship program (COF). Choose Ohio First is part of Ohio's strategic effort to bolster the state in the global marketplace of Science, Technology, Engineering, Mathematics, and Medicine (STEMM). COF awards scholarship funding to selected Ohio colleges and universities to support undergraduate and qualifying graduate students in innovative academic programs.
"Kettering College is honored and humbled by the amount of support given to us by the Ohio Department of Education." Said Nate Brandstater, Kettering College President. "This partnership will allow us to serve our community by helping more students pay for a high-quality education at Kettering College."
This need-based aid will grant 30 eligible and qualifying students with $3,000.00 in tuition per year ($1000 per semester).
To qualify, students must:
 
• Must be an Ohio resident
• Be a new or currently enrolled student in our nursing program
• Submit a FAFSA (this is used for the sole purpose of determining financial need)
• Meet all program acceptance and/or good standing requirements
There are far too many individuals, particularly of low income and minority communities, who are unable to pursue their dream of obtaining a college education without financial assistance. In collaboration with the Choose Ohio First Program, Kettering College will enable more students from diverse populations to achieve its nursing program outcomes.
"Kettering College has a well-respected tradition of supporting students through work-based and service learning," Randy Gardner, Chancellor of the Ohio Department of Higher Education, said while announcing Kettering College's Choose Ohio First grant. "I'm excited that Kettering will be able to enhance its efforts through new Choose Ohio First scholars.