December 06, 2022 ∙ by Web Administrator ∙ in Potomac Conference
Story by Debra Anderson
Members of the Potomac Conference office staff recently gathered to improve the living conditions for those seeking refuge from domestic violence. The project fell under the auspices of the We CARE (Compassion Actively Realized Everywhere) Committee, established by the conference in 2021.
The purpose of We CARE is to partner and participate with local organizations and stakeholders in the Staunton, Waynesboro and Augusta counties in Virginia to better understand and meet the needs of their communities.
The committee contacted Rosalind Cook, director of program services for the Staunton chapter of the New Directions Center, a national nonprofit organization that provides advocacy, housing assistance and crisis intervention to people affected by domestic violence.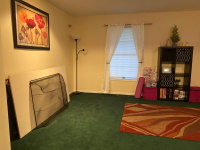 At their initial meeting, Cook told the committee that the organization was asking local establishments and concerned citizens to adopt one of the four bedrooms in the house for renovation. "The residents of our shelter are here because they are seeking protection from physical and emotional abuse," she says. "When they enter our doors, they are in crisis and are experiencing one of the most difficult times of their lives. We not only want to provide for them a haven from harm, but we also want to offer them a comfortable, clean and cheery place."
Debra Anderson, special assistant to the office of the president and chair of the committee, says, "The Potomac Conference doesn't merely want to occupy office space in Staunton. Our workers want to be active participants in making a difference in the lives of our neighbors. When presented with the opportunity to significantly impact the living conditions for those seeking a safe place, we jumped at the chance."
Representatives from the committee were given the opportunity to tour the home for a needs assessment. Moved by the stories of some of the residents, the committee voted unanimously to adopt the entire four-bedroom, three-and-a-half bath house for renovation.
More than 12 staff members removed wallpaper, applied a fresh coat of paint, installed new carpet and flooring, assembled new furniture, made necessary repairs and decorated the entire house. The project took six days to complete with staff members investing more than 500 work hours.
Renovation of the shelter is the second initiative the We CARE committee has undertaken. The first enterprise was in November 2021, when the office staff distributed more than 400 pies to residents in the community, local government offices and businesses in Staunton.
The committee will embark on its third initiative, a Community Spring Fling, to be held in 2023 on the grounds of the Potomac Conference.