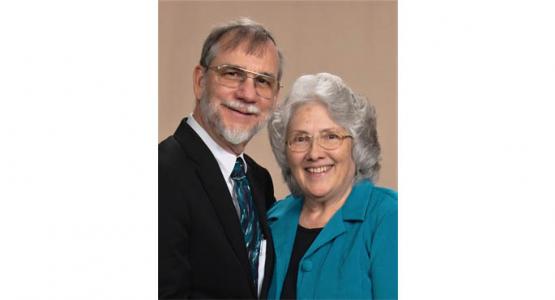 Greenes Retire After 20+ Years at the Union
February 28, 2022 ∙ by vmbernard ∙ in Columbia Union News
Story by Michelle Greene
After more than 20 years of serving at the headquarters of the Columbia Union Conference in Columbia, Md., Harold and Christine Greene are retiring March 1.  
Prior to working at the Columbia Union, Harold worked as an educator for 19 years—many of those years as principal and science and math teacher at Pennsylvania Conference's Huntington Valley Christian Academy (formerly Greater Philadelphia Junior Academy). Christine also served there, as the coordinator for the Christian Playcare Center.
Their passion for education created the opportunity to work at the union.  
Nancy Lamoreaux, the union's Information Technology (IT) Services director at the time, sat in on a training session Harold was presenting to conference treasurers. Harold recalls Lamoreaux sharing that the union needed someone who knew how to train, teach and talk to people. "And she asked if I would join the staff ... at the union," he says. 
Harold began working at the union in 1995. He became the director in 1998, and was instrumental in integrating the web-based accounting system and payroll software they use today, as well as helping employees integrate email, the internet and other technology in day-to-day activities. The department has continuously grown to offer up-to-date technology and support for employees throughout the union.  
The transition from education to IT was not a difficult one for Harold, as his passion stems from something deeper. "My passion is helping people," he says. "Whether it's a 10-year-old [student] or a 60-year-old person, I get fulfillment from helping." 
Although Christine describes Harold as a social butterfly, his success as a leader is due to his ability to listen and observe situations in his department. Lisha Weber, union software support specialist who has worked with Harold for 27 years, says, "Harold has an extremely keen ability to listen, stay calm and be patient, which is not only a vital part of solving technical issues that arise, but also important in his quality departmental leadership."
Greg Iverson, who will assume the role of IT director, also shares the same appreciation for Harold's leadership skills. Iverson says Harold mentored him during his transition into adulthood and working full time at the office: "Harold knew when to give me space to do my thing and when to give gentle counsel on what I could do better." 
Floating Into the Education Department 
Christine started her journey at the Columbia Union in 1998 as a floater at the front desk, but was quickly recruited by the Education Department in a temporary role as registrar. Ham Canosa, the then education director, had planned to hire a particular individual full time, but the person didn't take the job. Christine expressed her desire and passion to continue working in this role and soon became the official registrar. 
The registrar oversees the process in which all educators in the union are certified by the North American Division (NAD). This process includes collecting and evaluating academic transcripts and issuing teacher certifications. "The more I did it, the more I loved it because I'm such a nitpicker and details and all that stuff that people think is boring," says Christine. 
Her attention to detail has been highly valued by educators in the union, according to Donovan Ross, vice president of Education for the union. "Christine has effortlessly managed this process over the years and also provides educators with the classes and/or academic credits they need to attain NAD teacher certification," says Ross. "While educators may not be able to name the members of the Columbia Union Office of Education team, everyone knows who Christine Greene is and greatly appreciates her work."  
The Greene's dedication to ministry has been portrayed through their jobs. "They have made a tremendous impact in our union, especially in the areas of treasury and education," says Emmanuel Asiedu, union treasurer. They've also exemplified what a great team married couples can be in ministry: "One thing that I will remember about them is their spirituality," adds Asiedu.  
Greene Inside and Out 
Inside of the office, the Greenes are known for being "green—in and out," says Christine.  
Their home garden, which has tomatoes, cucumbers, squash, okras and peppers, has been a blessing to many. Before his passing, Christine's father, who lived with them, grew tomatoes and distributed them at a local food pantry. Now, the couple has directed their focus on growing what is needed and sharing produce with neighbors and friends.  
Over the years, Christine has also shared produce and many plants that she grew in her office with coworkers. She also says it was a joy to see people come to her office just to get "a breath of fresh air" from all the plants. 
Harold and Christine also share a passion for music. Growing up, Christine played the clarinet and piano and presented sacred music concerts with her family. Harold came from a family of brass players that often toured. 
After marrying Harold, Christine said, "You know what? I am not sitting here while you're off in Jamaica playing for these groups or off in the Bahamas or wherever you're going to go—Brazil, Europe." So on their first wedding anniversary, she acquired a baritone, and said, "Just show me what fingers go where, and I'll take it from there." She's played and toured with Harold's family ever since.   
The couple also shared their talents in staff worships, with Harold leading song service and Christine accompanying him on the piano. Their ministry also helped nurture children at their home congregation, Chesapeake Conference's Westminster church (Md.) During those times, Christine played the piano while the children sang. Harold recalled those memories fondly: "Some of those kids ... were just like part of our family," he says. 
After retiring, Harold and Christine plan to continue caring for Christine's mother. The couple also hopes to spend more time with their four adult children and nine grandchildren.