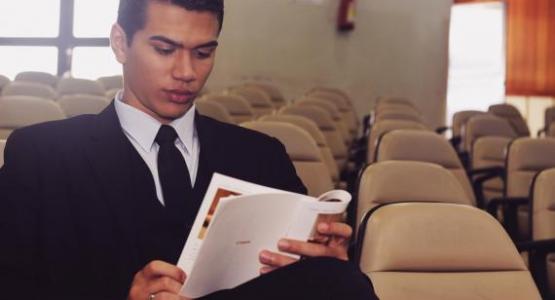 Does Public Evangelism Work?
March 30, 2022 ∙ by vmbernard ∙ in Pennsylvania Conference
Story by Pennsylvania Conference Staff
Public evangelism doesn't always work if it's simply done as a stand-alone event. However, public evangelism done as part of the cycle of evangelism is still highly effective.
"Churches who purposefully practice the cycle of evangelism on a yearly basis have successful evangelistic series and are consistently growing," says Yves Monnier, Ministerial and Evangelism director. "These churches do not do a lot of haphazard church events throughout the year—then remember to do an evangelistic series every so many years. No, these churches faithfully do activities that connect them with the community and build momentum leading to regular public evangelism, the harvest, year after year."
One of these churches is the Pottsville church. Pottsville had not experienced growth for a long time, but a few years ago, the church leadership decided that they were no longer satisfied with that and embraced the cycle of evangelism as their blue-print for ministry going forward.
That meant making some changes in how the church did things. So, with some fear and trepidation, the church courageously forged ahead, and God blessed enormously. Attendance jumped from around 30 members to 66 members in just two years. Baptisms grew from one per year to between 10 to 12 in the last two years. Tithe also increased exponentially. These numbers reveal an amazing turnaround.
Reflecting on what was happening in her congregation, Lori Koch, the church clerk, made the observation: "The only thing that was going to make us grow was evangelism because we were stagnant for years. Otherwise, we were going to die."
Churches with a Christ-centered evangelism emphasis like the Pottsville church are less likely to face the problems that so often paralyze churches, adds Monnier. He notes the following from the Seventh-day Adventist Church Manual: "When the [church] board devotes its first interests and highest energies to involving every member in proclaiming the good news and making disciples, most problems are alleviated or prevented, and a strong, positive influence is felt in the spiritual life and growth of members" (p. 129).
Monnier reinforces, "If there ever was a time when public evangelism works, it is now." He says, people are searching for answers to life's big issues more than ever. Let's make sure that it is part of a carefully and prayerfully laid-out Christ-centered plan like the cycle of evangelism.
POTTSVILLE CHURCH STATS
Attendance
 For years, the average attendance was 28 to 30 people.
In 2018, the attendance jumped to 39 people.
In 2019, 53 to 63 people were attending.
 In 2020, 66 were attending.
In 2021, 66 people were coming, despite the pandemic.
Baptisms
For 20 years leading up to 2018, there was one baptism per year.
2018 = 5 baptisms
2019 = 12 baptisms
2020 = 2 baptisms*
2021 = 10 baptisms
Tithe
2017 = $92,887
2018 = $98,331
2019 = $123,894
2020 = $152,328
2021 = $165,090
*The church didn't participate in public evangelism in 2020.