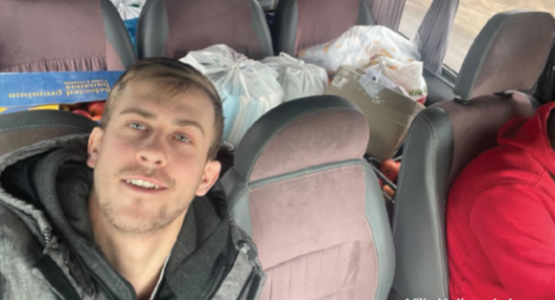 June 15, 2022 ∙ by vmbernard ∙ in Kettering Health, Ohio Conference
Story by Christina Keresoma
God gives us open communication with Him through prayer. It's our lifeline to Him. He even gives us different ways to enter these conversations with Him: praying the scriptures, prayer walks, prayer journals, prayer through song and worship, personalizing scripture, and group prayer. As a faith-based organization, our physicians, nurses, and employees can openly pray with each other, patients, and visitors.
As Seventh-day Adventists, we know prayer works. Physicians pray with patients before surgery, seeking God's hand through the procedure and the patient's healing. Environmental staff pray with patients in recovery rooms.
Leadership and clergy pray over new buildings and building expansions with newly completed rooms. Leaders and staff begin meetings and events with prayer, asking God to guide the outcome and bring benefit to attendees.
Prayer is a central part of life at Kettering Health. Even our surrounding communities know we believe in the power of prayer. And our communities—and world—need it more than ever.
As we make sense of the events unfolding around the world, we see so many hurting hearts. Exhausted physicians and nurses try to keep going after caring for patients with COVID-19 and seeing the death it brought. To offer support, clergy and leadership teams brought food, encouraging notes, and set up rooms for reprieve so care providers could escape the stress. Now as hospitalizations and cases drop and our spirits lift, a new burden has fallen upon the world: the invasion of Ukraine.
Words cannot capture the heartache we feel for our brothers and sisters.
Many of us here, thousands of miles from Ukraine, have wondered what we can do to help. Thankfully, God has given us the powerful gift of prayer. Kettering Health executives recently came together to hold a special prayer vigil for Ukraine. Holding fast to the truth our Heavenly Father is the one true God, they prayed with heavy hearts for those in Ukraine and confidence that God comes to help and heal the most vulnerable.
A Kettering Health chaplain has been sharing messages from a friend whom God is currently leading through the streets of Ukraine. Vilis Neikurs earned his bachelor's degree in religion from River Plate Adventist University in Argentina. Vilis, a Romanian, married his wife, a Ukrainian, in January of this year. One month later, Russian troops invaded Ukraine.
Vilis and his wife went to Romania to find a safe place. And Vilis has since been making trips in and out of Kyiv. He brings much-needed supplies to Ukrainians trapped in the city and has been smuggling as many people out as he can.
"Many trips are being made to take out people from the city and to bring food to those who remain there," said Vilis. "We need help. But, seriously, what we need the most is prayer. We are seeing them work. It is impressive how in each trip we have done from Kyiv, God closes the eyes of the soldiers who are at the borders, and they let us go through without any problems. One day we were able to take out 80 people."
Despite the sights and sounds of invasion and war, Vilis approaches the border crossings with confidence that God hears and answers prayer. He waits his turn, watching the car in front of him be searched by Russian troops. If he's caught, he knows there will be dire consequences. But every time, Russian troops wave him through. As he drives away, he sees the troops stop and search the car behind him.
Vilis knows and believes in the power of prayer. And so do we. At Kettering Health, we will continue to pray. We are proud of our culture of prayer and ask you to join us.
* Financial support has been provided through the Kettering Adventist Church and ADRA.