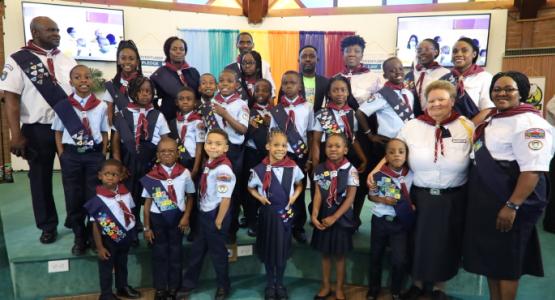 Columbus All Nations Creates Adventurer Club
October 04, 2022 ∙ by Web Administrator ∙ in Allegheny West Conference
Story by Eva Agata
The Columbus (Ohio) All Nations church recently conducted its first Adventurer Investiture Service in years. The church predominantly consists of young families with children old enough to join an Adventurer club, but for many years a club has not existed.
The idea to start an Adventurer club began when several ladies from the church began reminiscing about their time in Pathfinders, attending camporees and drills and participating in fun activities on Sabbath afternoons.
The subject came up again during a Vacation Bible School (VBS) at a sister church. This time, the ladies went as far as writing down what it would take to get a club up and running and brainstormed volunteers who could help the project come together.
Sitting untouched in one of the church classrooms was a box with unused Adventurer and Pathfinder club materials, including activity books and the official manual. So, the ladies got to work.
They registered the club with the Allegheny West Conference, made phone calls, wrote emails to stakeholders and recruited volunteers. They purchased supplies, organized materials and met with other Adventurer club representatives to see if they could conduct training sessions. Adventurer leaders from the Central Texas Conference welcomed them to join virtually in one of their training sessions.
With volunteers on board, the ladies met every week to pray and dedicate the club to the Lord, for they knew they could not accomplish this goal without His guidance.
Late last year, the Columbus All Nations Cubs became official, as 21 children, ages 4–9, were inducted into the club. During the year, the club met faithfully twice a month, received all their awards and acquired new club members and a volunteer.
The club recently closed the year with their first investiture ceremony. Plans are underway for the coming year when they hope to induct more children into the club.