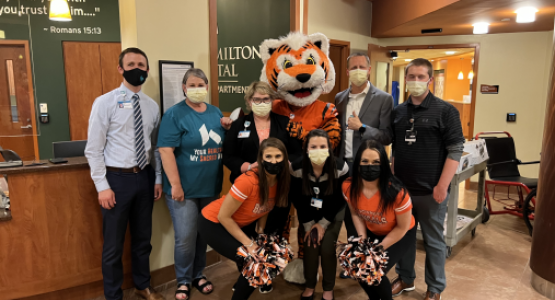 The Cincinnati Bengals and Kettering Health Partner
July 28, 2022 ∙ by rbacchus ∙ in Kettering Health
Story by Christina Keresoma
Kettering Health in Ohio has been selected as the official health care provider of the Cincinnati Bengals. The 10-year partnership includes five branded clinics inside Paul Brown Stadium that Kettering Health team members will operate.
The Kettering team members will administer care to fans during concerts and events in the stadium. Kettering Health and the Bengals will also collaborate to offer programs and health services such as supporting the Bengals' official youth flag football program, which reaches dozens of schools in a 60-mile radius.
Kettering Health will also partner with the Bengals to bring year-round awareness of the NFL's "Crucial Catch: Intercept Cancer" campaign to raise awareness for cancer screenings.

"As a healthcare organization, Kettering Health is dedicated to supporting the needs of our community, ultimately helping people be their best," says Fred Manchur, CEO of Kettering Health. "The Bengals are equally committed to their people, their fans, and local residents. This partnership builds on that common purpose and the strengths of both organizations. We are excited to work together to build a healthier community."
During a visit to Paul Brown Stadium, the executive team toured the Bengals training area—now known as the Kettering Health Training Room—and they noticed a Bible verse printed on the wall: Proverbs 27:17, which says, "As iron sharpens iron, so one person sharpens another" (NIV).
Visit Kettering Health's Facebook and Instagram pages for more photos.