Camp Meeting Starts With Gospel Jamboree
September 12, 2022 ∙ by Web Administrator ∙ in Mountain View Conference
Story by Liz Bailey
The 2022 Mountain View Conference (MVC) Camp Meeting, held at the Valley Vista Adventist Center in Huttonsville, W.Va., kicked off with a Gospel Jamboree for the neighboring communities.
Organizers rented a 10' x 22' billboard in Elkins, W.Va., to advertise the event, posted announcements on social media and sent postcard invitations to local residents and churches. Guests could preregister to secure front row seating.
Approximately 130 people from the community attended, getting their first glimpse of the campgrounds and possibly meeting Seventh-day Adventists for the first time.
Jamboree musicians included the groups Two Little Fish and Notes of Praise, both from the MVC, along with special feature group, The Lesters.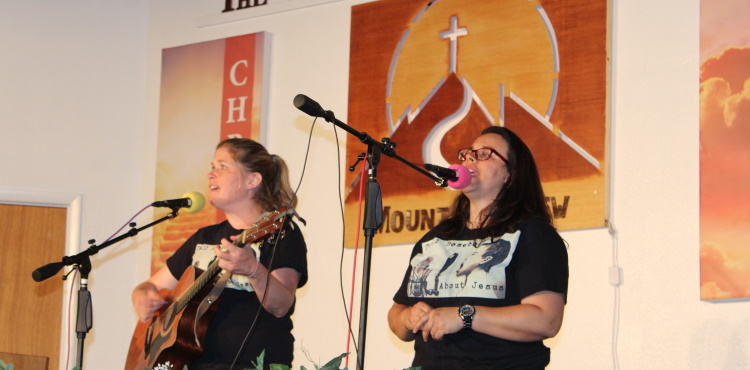 Two Little Fish—the co-writers of this year's theme song, "Tell Somebody"—is a contemporary Christian band composed of Stacy Blanzy, a teacher at Highland Adventist School in Elkins, W.Va., and Audrey Hunt, a physician in Charleston, W.Va. Notes of Praise, a church choir from the Spencer (W.Va.) church, sang many of their songs a cappella and sometimes sang with Two Little Fish.
Known and loved by many, The Lesters are a longtime southern gospel singing group who have been featured on 3ABN and Gaither Homecoming shows. The current group is comprised of Brian Lester, his son Jonathan, and Jonathan's wife, Bailee. They are dedicated to leading people to Jesus by sharing the joy of Christ through music and personal testimony.
Alan Ayala, who attended camp meeting for the first time and is taking baptismal classes to become a member of the Morgantown (W.Va.) church, shares, "I loved it! Best church camp I've ever been to, and I've been to lots!"
Longstanding church members stated that they hoped this camp meeting outreach would be the start of a new tradition. As guests arrived, they were greeted with a smile, a water bottle and a bag of popcorn. As they left, they were invited to come back the next day for more inspirational messages and an afternoon concert featuring The Lesters.
"Our goal in the Mountain View Conference is to tell everyone about Jesus," states Tim Bailey, MVC's president. "We need to use every means possible— sound media advertising, billboards, camp meeting, church, Bible studies and even concerts—for the glory of God to reach our communities."