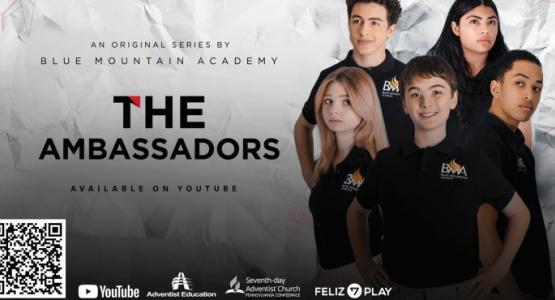 October 10, 2022 ∙ by Web Administrator ∙ in Pennsylvania Conference, Education
Story by Esther Hernandez 
Nalda Hernandez was concerned for her son Antonio. He was being bullied in school, and the emotional stress resulted in him not caring about anything, including his grades. She knew he needed a change, but as a single mom, could she afford a Seventh-day Adventist education? On the other hand, could she afford not to?
She enrolled Antonio at Blue Mountain Academy (BMA) in 2019. "That was a lot of sacrifice at the time," Nalda shares. "The atmosphere of an Adventist school was important to me, and here he had the opportunity to meet other students from all over the world who also shared the same beliefs."
Antonio did indeed meet and make new friends at BMA. He joined the Ariel Aires, BMA's touring acrobatic team that seeks to glorify God through teamwork, fitness and spirituality. Academically, he grew and was inducted into the National Honor Society, an organization that chooses students based on academics, leadership, service, and character.
"Antonio is an exceptional student," says Burney Culpepper, BMA's principal. "He excelled academically, spiritually, socially, and even participated as one of our main actors in The Ambassadors series."
Antonio graduated in May 2022 and is currently studying astronomy in college, with the dream of working for NASA one day. Nalda sees the difference the "BMA Experience" has had in her son's life.
"I'm very grateful to the school because my son was able to grow holistically," she says. "Today, I can say that I have a son who is responsible and very mature in many aspects."
Culpepper expresses, "We love to hear stories like Antonio's. Our goal is to partner with God and parents to offer young people a safe place to grow spiritually, academically and socially. We are intentional about creating opportunities for students to live out their ever-growing faith—whether through a touring group like Ariel Aires, during our Bible labs as we serve the Hamburg community, or just in our daily life on campus. We are excited to begin a new school year and watch God transform the lives of students and prepare them, not only for the future, but for eternity."