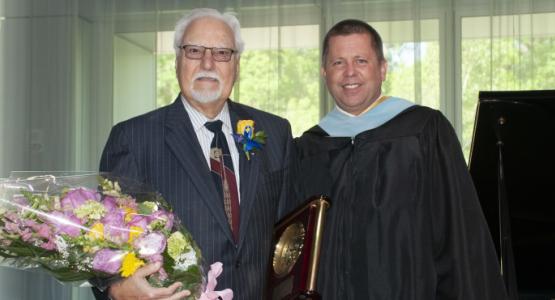 Board of Trustees Chair Retires, Honored
September 21, 2022 ∙ by Web Administrator ∙ in Education
Story by Vicki Swetnam
Frank Perez, who recently retired as Spring Valley Academy's (SVA) board chair, was honored at last school year's senior commencement and received a plaque of gratitude and appreciation for his leadership and dedication to the school. Perez became chair of the SVA Board of Trustees in 2008 and guided the school through an important debt elimination. He led SVA through two major capital projects, resulting in the new Fritzsche Center for Worship and Performing Arts, as well as the current campaign for the Dean and Trudy Johnson High School Wing expansion.
He also oversaw the growth of the SVA Gala Auction, a volunteer-driven event that has raised over a million dollars and community awareness for the school. Personally, he and his wife, Carmen, have invested in the future of SVA through generous gifts while inspiring many others to follow their lead.
Additionally, during Perez's more than 40 years in health care, he served as CEO at numerous organizations in the United States and overseas, culminating in his role as president and CEO of the Kettering Health Network (now Kettering Health).
In addition to his accomplished career as hospital administrator, Perez has served on many nonprofit and community-service organization boards. He has used his considerable influence and expertise to raise money, interest and awareness for myriad projects, causes and campaigns.
"Frank is an accessible leader, sharing his considerable insight and wisdom with SVA's administration, teachers and staff. His prayer-led approach and amicable leadership style ensure respect from all who work with and for him," says Darren Wilkins, principal. "We appreciate his dedication to SVA. God has blessed the school through him. We will miss him!"