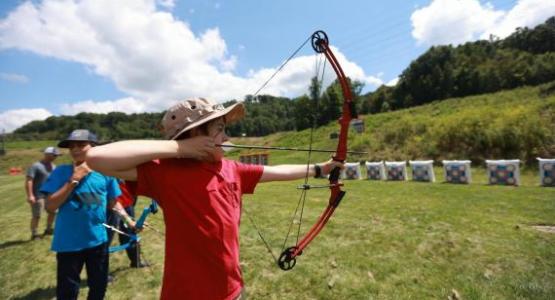 Activities Kick Into High Gear at Pathfinder Camporee
August 12, 2022 ∙ by rbacchus ∙ in Columbia Union News, Pathfinders
Story by V. Michelle Bernard
Activities such as ziplining, kayaking, drill competitions, visiting a coal mine, archery and a community service trip to help local senior citizens continued on Friday—the third day of the "Relentless" Columbia Union Conference Camporee.
The rolling hills at the Reserve at Summit Bechtel in Glen Jean, W.Va.—home to the National Boy Scout Jamboree—provides the traditional offerings of a camp, like swimming, hiking and craft-making, but also features a sustainable treehouse and the CONSOL Energy Bridge, among other attractions.
"I was really surprised when I saw all the modern technology here—like solar panels on the bridge," says Ema Gonzalez, a Pathfinder from Pennsylvania Conference's Lawndale club.
Thokozani Kulemeka, a Pathfinder from Allegheny West Conference's Hilltop Community Worship Center in Columbus, says he felt like he was in a movie when shooting a real bow and arrow in archery. "The camporee has been really fun. I've got to spend time with my friends and hang out," he expresses.
On Sabbath, the campus activities will switch to earning honors that highlight local ecosystems: Decidious Forest; Mountains; Waterfalls; Bogs; and Ferns honors, in addition to Glass Painting; African American Adventist Heritage; Nutrition; and more.