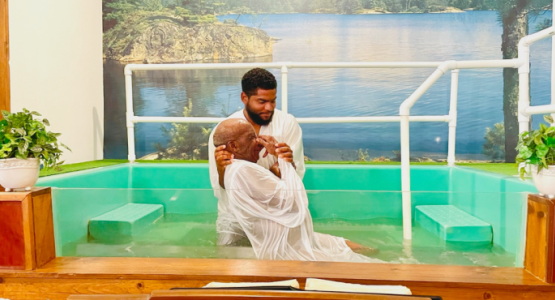 93-Year-Old Baptized at Forest Grove Church
November 30, 2022 ∙ by Web Administrator ∙ in Chesapeake Conference
Story by Evan Knott
Members of the Forest Grove church in Dover, Del., recently celebrated the baptism of a 93-year-old man.
Alfred Williams initially became interested in learning about Seventh-day Adventists after contacting a church member to offer condolences following a relative's death. When the member invited him to attend church, he agreed to go.
Williams decided to attend the Voice of Prophecy "Serpentine Prophecy" satellite event that was hosted in the Forest Grove/Dover First district. After attending the meetings, he contacted Javier Scharon, pastor of the Forest Grove/Dover First churches, and explained he was 93 years old, and it was "about time he got things right with God."
Williams began taking Bible studies and was baptized at the Forest Grove church earlier this year.