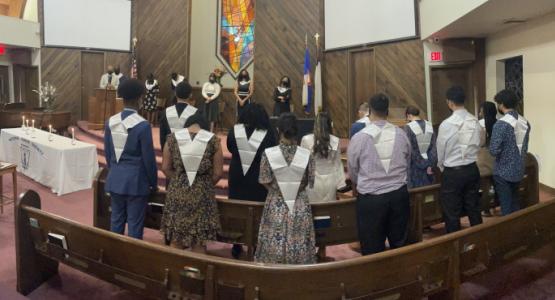 12 Students Inducted Into National Honor Society
May 18, 2022 ∙ by Web Administrator ∙ in New Jersey Conference, Education
Story by Elisa Maragoto
Earlier this year, Lake Nelson Adventist Academy (LNAA) had the honor of holding the annual induction ceremony for the National Honor Society (NHS). Twelve students were added to the LNAA chapter— nine from LNAA, two from Waldwick Adventist School and one from Vine Haven Adventist School.
Established in 1921, NHS is a national organization that uses four pillars to recognize students' accomplishments: academics, leadership, service and character.
Indeed, it is a recognition and distinction to be a part of the NHS. We are very proud of our students. Their tenacity to persevere, willingness to serve and dedication to the task at hand has placed them in a path worth acknowledging.
As I heard each of the students' speeches, Proverbs 22:6 came to mind: "Train up a child in the way he should go, and when he is old he will not depart from it" (NKJV).
What way should our children go? What training leads to the destination? Or is the journey the destination in and of itself? We well know the word "training" means more than receiving an academic education and that where they should go is not bound by this world.
I believe that when training is integrated, aligned and connected to God, the destination is almost secured. Academics will connect to a God-given purpose, not just a career; leadership will be understood as the power to influence for good, regardless of position or title; service will be recognized as the greatest joy reaping the greatest benefits; and character will reflect in whose image we were created for. In so many words, the aim of "true education means more than the pursual of a certain course of study. It means more than a preparation for the life that now is. It has to do with the whole being, and with the whole period of existence possible to man. It is the harmonious development of the physical, the mental, and the spiritual powers. It prepares the student for the joy of service in this world and for the higher joy of wider service in the world to come" (Ellen White, Education, p. 13).
In the name of Jesus, we continue to daily strive to reach that aim in the lives of each of our students. Congratulations to the 12 inductees!