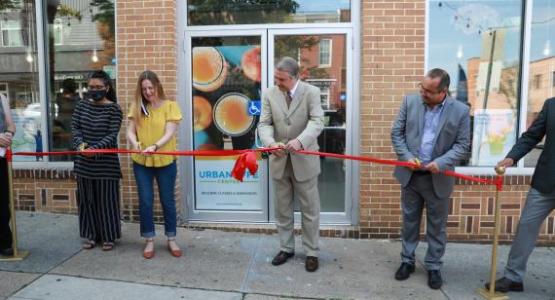 Urban Life Center Celebrates Grand Opening in Baltimore
August 18, 2021 ∙ by vmbernard ∙ in Columbia Union News, Chesapeake Conference
"The church needs to be willing to go wherever people are. And where are people? They're in the cities," declared Frank Bondurant, vice president for ministry development of the Columbia Union Conference, at the grand opening ceremony for the new Urban Life Center in Baltimore on August 13.
Bondurant, who also serves as the church planting coordinator for the region that includes seven Mid-Atlantic states and the District of Columbia, was joined by administrators from the world headquarters of the Seventh-day Adventist Church, the North American Division, and the Chesapeake Conference, which is home to the new Baltimore initiative.
The Urban Life Center results from a strategic partnership between the Ellicott City (Md.) and Baltimore-White Marsh Seventh-day Adventist churches, and aims to be a place for making friends and serving the community as a bridge to presenting the gospel message.
"It's fitting that we have a ribbon-cutting ceremony, because this really is a gift to the city of Baltimore," said Jerry Lutz, president of Chesapeake Conference. Lutz was joined by Ellicott City lead pastor Paulo Macena and two employees of the new center in snipping the ceremonial red ribbon that officially opened the Eastern Avenue location.
The center features an innovative "juice bar" where patrons can enjoy healthy juice combinations while learning more about health in a relaxed atmosphere designed for making friends. The storefront location began limited operations earlier this summer, and also offers classes, seminars and workshops in the areas of wellness, health, and leadership, as well as project opportunities for serving the wider Baltimore community.
"This place is just an excuse—an excuse for making connections," noted Gary Krause, director of Adventist Mission at the world headquarters of the Seventh-day Adventist Church in Silver Spring, Maryland. Krause and his colleagues have launched similar centers in Asia, the Middle East, the South Pacific, and Europe. As in the Baltimore Urban Life Center, Adventist Mission collaborates with other regional entities of the denomination in planting new congregations in major cities of the world.
"We love the city not because of skylines," said Jose Cortez Jr., associate ministerial director of the North American Division in Columbia, Maryland. "We love the city not because of sports teams. We love the city not because of buildings. We love the city because of people. The reason why this Center of Influence exists is because of people."
Pastor Macena is delighted to see the vision he helped launch finally come to fruition. "It is an exciting opportunity for us to do incarnational ministry," he says. Macena and Baltimore-White Marsh pastor Diego Boquer have spent more than a year developing the model and resources that led to Friday's ceremony.
The Urban Life Center is designed to be a focus of Chesapeake Conference's ongoing church-planting efforts in Baltimore. The 16,500-member conference has announced a goal to plant 35 new churches in its territory by the year 2025.
"There are many neighborhoods in Baltimore with no Adventist church or ministry," says David Klinedinst, evangelism and church growth director for Chesapeake, who worked with Macena and Boquer to create the project. "The Urban Life Center is seeking to meet that need and ultimately be a launching pad and catalyst for other church plants in Baltimore."