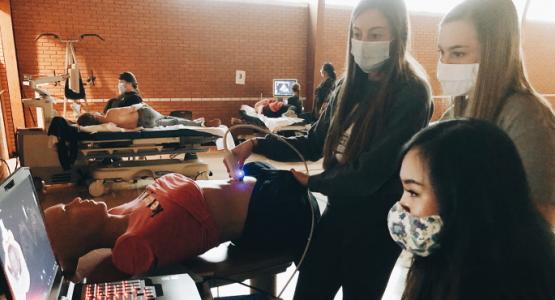 Teaching the Fine Art of POCUS
August 03, 2021 ∙ by Web Administrator ∙ in Kettering College
Story by Leigh Wilkins
More than 60 family medicine and internal medicine physicians at Kettering Health receive intensive point-of-care ultrasound (POCUS) training each year, thanks to a dynamic partnership with Kettering College.
Sometimes referred to as "the next stethoscope," POCUS refers to the use of traditional and hand-held sonography devices to assess patients in the emergency department, inpatient, and clinic setting. Specialized training is essential, but most medical schools and residency programs do not offer POCUS as part of their curriculum.
Shawnya Wilborne began developing the POCUS curriculum in 2015 at the request of Susan Price, director of the Medical Sonography Program at Kettering College. She began with a small pilot program that has since grown to provide each learner with about 50 hours of didactic and hands-on training a year in the college's sonography labs. Instructors include Wilborne, a medical sonographer; internal medicine specialist Andrew Moren, MD; and family physician Wes Halderman, MD.
"I began working with Dr. Moren and Dr. Halderman to create a more robust curriculum for internal medicine residents that would include lectures, guest speakers, and a structured schedule of labs," says Wilborne, who is also a 2002 graduate of Kettering College.
Dr. Halderman and Dr. Moren continue to meet weekly with Wilborne to gain new ultrasound scanning skills and are sometimes joined by other faculty members who have an interest in POCUS. The two physicians say that much of the credit for the POCUS training's success goes to Kettering College.
But perhaps the real MVP is Wilborne, whose contributions to the training program can't be underestimated, Dr. Halderman said. "Shawnya has performed thousands of ultrasound scans, and her expertise is tremendous," he said. "She helps me, Dr. Moren, and our residents with all the intangibles we can't learn from a video or a book."