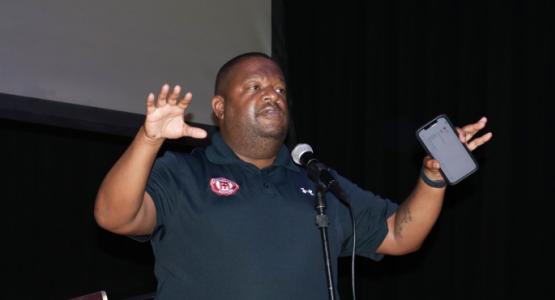 Takoma Academy Embraces New Beginnings
November 02, 2021 ∙ by Web Administrator ∙ in Potomac Conference, Education
Story by Salena Fitzgerald
After a challenging 2020–21 school year, the Takoma Academy (TA) leadership team announced the return to in-person school in late summer 2021. Keith Beckett, vice principal, transitioned to interim principal to fill the position left vacant by Carla Thrower, who continues her journey as the associate director for secondary education for the Southern Union Conference, headquartered in Georgia.
Beckett has served in many leadership positions, including vice principal, dean of students and athletic director in the Seventh-day Adventist school system. He has also taught high school history.
"In my heart, I will always be a teacher. It is my privilege to lead TA and the many talented Christian educators and students!" says Beckett. "My goal is to continue to provide a supportive climate and culture at TA that is conducive to teaching and learning. By doing so, each individual student and teacher can experience growth to their highest potential."
TA is expanding new elective opportunities, such as digital photography and videography, taught by Keon Green ('90). Green is currently completing a bachelor's degree in Digital Media and Web Technology from University of Maryland Global Campus (UMGC).
Green's childhood passion for graphic design led him to start his own business in 2008. KTGworks Media, LLC is a photography and videography company that develops marketing and branding content. Green says, "As a 1990 TA graduate and Adventist Christian, I have a sense of obligation to prepare our youth to be competitive in this rapidly growing area of digital media. I feel God has called me to help prepare our students to not only compete in the job market, but to go out and apply their creative knowledge in their local churches and further push the gospel."
TA also welcomes Fine Arts teacher Opal Foster, a graduate of Andrews University (Mich.). With a bachelor's degree in Media Technology, a minor in Graphic Design and more than 15 years of experience in the graphic industry, Foster is excited to take on her first teaching position.
Foster expresses, "This year at TA, I look forward to educating our students and sharing my love of the arts with them. I'd like them to have a deeper understanding of visual arts and how it impacts our world. I would like students to go beyond their artistic ability and fine tune their God-given talents."
TA leaders say they are looking forward to embracing new challenges and changes, as the school continues to strive for excellence and reiterates their mission to lead young people to Jesus Christ while providing excellence in academics and a commitment to service.