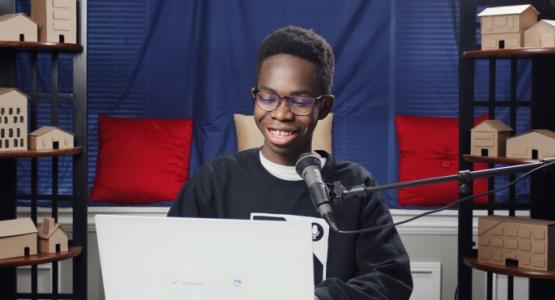 Student-Led Podcast Fosters Spiritual Development
September 09, 2021 ∙ by Web Administrator ∙ in Coronavirus Pandemic, Education
Story by Jaydon Mabena ('21)
The Living Room TA, a podcast hosted by several students, as well as Leah Burgess, Takoma Academy's (TA) chaplain, served as TA's weekly chapel experience due to the school's continued virtual learning experience during the COVID-19 pandemic in 2020–21.
Episodes were recorded one to two weeks in advance. Every other Friday, the team hosted a virtual two-hour recording session. The first hour was split into four 15-minute episodes that coincided with TA's four-day school schedule. Using a different host and topic, the second hour was also split into four episodes for the following week.
The spiritually enriching podcast takes a collaborative effort. While topics are preselected, conversation isn't scripted, and the co-hosts are free to add their own thoughts and ideas to the topic they're discussing. Shiloh Starling ('23) comments, "As a result of the TA podcast, I have been able to grow and talk to people that I connect with. It also has deepened my connection with God."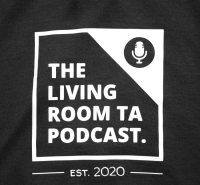 In late August 2020, the team launched season one of the podcast. What felt like fun conversation at the time ended up leading to some very insightful dialogue. During the first season, they discussed topics ranging from improving your relationship with God to healthy lifestyle habits. They also tackled much deeper subject matters, such as harassment, mental health issues and activism.
With 16 guests across 66 episodes, it was an unforgettable season. Gabriel Morency ('22), a member of the podcast team, says, "I was told that the podcast would be for the students listening. Little did I know how much it would affect me as a host. The knowledge that there may be students listening ... motivated me to continue to host the podcast."
Following winter break in early January 2021, they launched the second season, kicking off the year with an updated cast, expanding from six to 15 team members. Their inaugural discussion included student-led messages, as well as an interview with Renée Battle-Brooks, an assistant state's attorney for Prince George's County, Maryland.
Season two featured 24 special guest appearances. By the end of the season, they had reached listeners from 15 countries, including Brazil, Kenya and Singapore. Burgess, executive producer, concludes, "An idea for a podcast was on my mind. A few months later, a student wanted to talk and pray about his gifts in ministry. Fast forward two months and we were face-to-face with the COVID-19 pandemic and the challenges of encouraging spiritual development in the lives of our student body. In August 2020, we witnessed an idea transition into prayer and later into good fruit—The Living Room TA podcast."—Jaydon Mabena ('21)