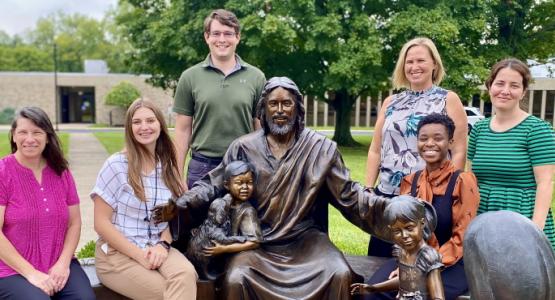 Spring Valley Academy Welcomes New Faculty Members
November 08, 2021 ∙ by Web Administrator ∙ in Education
Story by Vicki Swetnam
With God's continued blessings, K–12 enrollment at Spring Valley Academy (SVA) has grown this 2021–22 school year. Staff has also expanded to include six new faculty team members:
Liza Da Cunha hails most recently from Chesapeake Conference's Spencerville Adventist Academy (Md.), where she served as the third-grade teacher. She is now serving SVA as one of three grades 3/4 teachers. Da Cunha has a master's degree in Special Education from the University of West Florida. She and her husband, Don, have two children enrolled at SVA: Cameron ('23) and Brea ('25).
Stacy Doyle has spent most of her 21-year teaching career in the Southern California Conference, where she taught at the Conejo Adventist Elementary School as the grades 5/6 teacher. Holding a master's degree in Education from Pacific Union College (Calif.), Doyle is SVA's new Intervention Specialist. She and her husband, Matt ('99), have two children enrolled at SVA: Finley (seventh grade) and Kellen (first grade).
Bryan Mattheson joined the SVA team as the accountant after Kathy Boyd, who served for more than 25 years, retired last December. Mattheson received a bachelor's degree in Finance Management from Loma Linda University (Calif.) and a master's degree in Accounting from Walden University (Minn.). He most recently transferred to SVA from Loma Linda University Health. He and his wife, Lassie, are recent newlyweds.
Audrey McGraw recently graduated from Walla Walla University (Wash.) with a bachelor's degree in Elementary Education. She joins the SVA team as one of three grades 1/2 teachers. McGraw loves to sing and play the guitar, and is a creative thinker, determined to make learning fun and engaging for her students. She and her husband, Evan, were married this past summer before moving to Ohio.
Jessica Robinson ('17) first joined SVA as an eighth grader in 2012. She went on to earn her bachelor's degree in English Literature from Oakwood University (Ala.), graduating this past May. Robinson is teaching high school English classes and is the elementary librarian. As a former varsity cheerleader at SVA (and in college), she brings abundant enthusiasm as the new coach of the high school varsity cheerleading squad.
Robin Tucker transitions to SVA from Ohio Conference's Worthington Adventist Academy, where she taught first grade. With a master's degree in Curriculum and Instruction from Andrews University (Mich.) and with 20 years of teaching experience under her belt, Tucker is one of three grades 1/2 teachers at SVA. She and her husband, Neal, have two sons, Scott and Jordan; daughters- in-law Raquel and Alison (former student); and seven grandchildren, including current student Rowan (first grade).