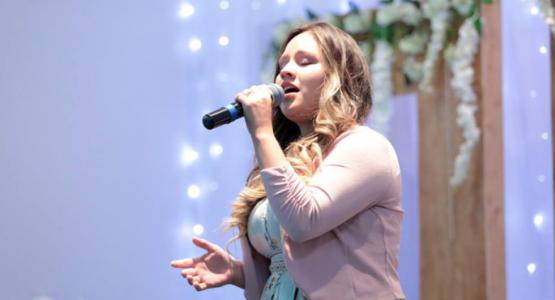 Singer Gives Praise for God's Perfect Timing
October 11, 2021 ∙ by Web Administrator ∙ in New Jersey Conference
Story by Anthony Baffi
Estefany Flores, who attends New Jersey Conference's Robbinsville church, has gone through many struggles in her life that have tested her faith when it comes to God's timing.
After losing her mother at a young age, Flores had to adjust to the absence of a mother figure. She began to find comfort in friendships and relationships that ended in betrayal and heartbreak. These disappointments caused her to drop out of college, and she began to question God's presence. Little did she know, He was right by her side, wiping away every tear.
As time passed, she felt God's promptings and started trusting in His timing. She returned to college and received a degree. She also had faith that God would prepare someone special for her. A few months later, she met Edgar Flores, and they've been married for two years.
Estefany understands the struggles she faced were necessary in her walk and faith in God. A vocalist, her favorite song is "Wait on You" by Elevation Worship and Maverick City. Today, she boldly sings: "I'm gonna wait on You. I've tasted Your goodness. I'll trust in Your promise."
Estefany says the biggest lesson she has learned in life is to be patient: "God's timing is perfect."